Treatment of neglected ulnar longitudinal deficiency associated with radial head dislocation in a 9-yr old male patient. Case-study and review of the current literature
V. Samdanis

P. Antonogloudis

J. Gigis

T Beslikas
Keywords:
Ulnar longitudinal deficiency, ulnar clubhand, single-bone forearm.
Abstract
Ulnar longitudinal deficiency represents a challenging clinical entity in terms of treatment and functional recovery.
Case study
 A 9-year old male patient was referred to our outpatient clinic due to severe shortening and ulnar deviation of his right upper limb. Range of motion of the elbow joint was limited including both flexion-extension and pronation-supination.  Radiographic examination revealed absence of the distal two thirds of the ulna as well as bowing of the radius and dislocation of the radial head. The patient underwent surgical treatment involving excision of the fibrocartilaginous anlage extending between the proximal ulna and the carpus, excision of the proximal radius and creation of a single-bone forearm in neutral rotational position.  
Results
At 6 weeks postoperatively bone healing at the site of the fusion was achieved. In terms of functional results, flexion and extension of the forearm were comparable to the contralateral extremity.
Conclusion
Creation of a single-bone forearm represents a viable treatment option in cases of ulnar longitudinal deficiency associated with radial head dislocation and limited pronation – supination of the forearm. Surgical intervention should be encouraged early so as to prevent deformation of the radius.
Downloads
Download data is not yet available.
References
1. Bayne LG. Ulnar club hand (ulnar deficiencies). In: Green DP, ed. Operative hand surgery, 3rd ed. New York: Churchill Livingstone,1993: 288.
2. Birch-Jensen A. Congenital deformities of the upper extremities. Copenhagen: Ejnar Munksgaard Forlag,1950.
3. Ogden JA, Watson HK Bohne W. Ulnar dysmelia. J Bone Joint Surg Am 1976;58(4): 467-475.
4. Swanson AB, Tada K, Yonenobu K. Ulnar ray deficiency: its various manifestations. J Hand Surg Am 1984;9 (5):658-664.
5. Chemke J, Nisani R, Fischel RE. Absent ulna in the Klippel-Feil syndrome: an unusual associated malformation. Clin Genet. 1980 Feb;17(2):167-70.
6. Gottschalk HP, Light TR, Smith P. Focal fibrocartilaginous dysplasia in the ulna: report on 3 cases. J Hand Surg Am. 2012 Nov. 37(11):2300-3.
7. L. R. Straub. Congenital absence of the ulna. The American Journal of Surgery 1965; 109(3): 300–305.
8. G. C. Lloyd-Roberts. Treatment of defects of the ulna in children by establishing cross-union with the radius. J Bone Joint Surg Br1973; 55(2): 327–330.
9. Miller JK, Wenner SM, Kruger LM. Ulna deficiency. J Hand Surg Am. 1986 Nov;11(6):822-829.
10. Carroll RE, Bowers WH. Congenital deficiency of the ulna. J Hand Surg Am. 1977;2: 169–174.
11. Chen GX, Zhou ZA, Yang L. Ulnar Lengthening Using a Half-Ring Sulcated External Fixator for Ulnar Longitudinal Deficiency: A Case Report. Cell Biochem Biophys.2013;67(2): 809-812.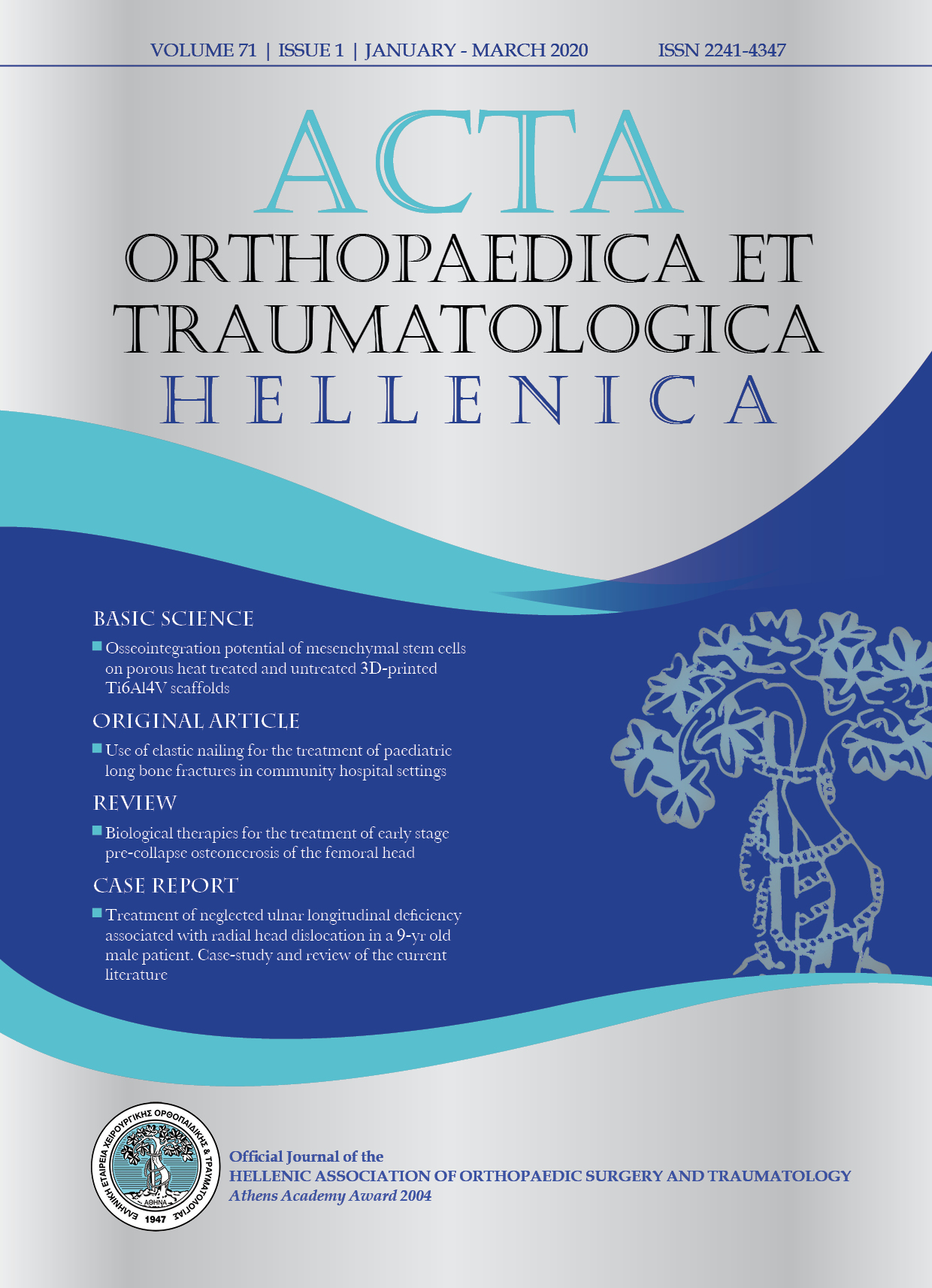 Copyright (c) 2020 Acta Orthopaedica Et Traumatologica Hellenica
This work is licensed under a Creative Commons Attribution-NonCommercial 4.0 International License.