Anterior Tibial Compartment Syndrome in a Child with Osteogenesis Imperfecta: An Unusual Complication of Spine Surgery.
Nick Sekouris

James Wilson McDonald

Richard Rogers
Keywords:
Compartment Syndrome; Intramuscular Pressure; Scoliosis; Osteogenesis Imperfecta; Patient Positioning; Spine Surgery
Abstract
Objectives. To report the case of a child with osteogenesis imperfecta (type I) who developed bilateral anterior tibial compartment syndrome following posterior spinal instrumentation and fusion.
Summary of Background Data. No previous study has reported anterior tibial compartment syndrome after spinal instrumented fusion in prone position in a patient with osteogenesis imperfecta.
Methods. A 16 year old female with osteogenesis imperfecta (type I) and progressive scoliosis underwent posterior thoracic instrumented fusion. Surgery was performed with the patient placed in prone position and continuously monitored with somatosensory evoked potentials that showed no neurologic changes. The patient was transferred to the Paediatric High Dependency Unit and immediately after her recovery from general anaesthesia she complained of severe cramping in both lower legs anteriorly. Clinical examination revealed decreased dorsiflexion of both tibia (grade 2/5 on the right and 3/5 on the left leg). Intramuscular pressure was found to be 75 mmHg and she was taken for bilateral fasciotomy. After decompression pain improved in both legs but there was still a decrease of right dorsiflexion (grade 2/5).
Results. At the follow up 3 months after the operation the patient had improved right dorsiflexion (grade 4/5) and normal power in the left leg.
Conclusion. This is a very rare case of anterior tibial compartment syndrome following spine surgery in prone position. This position does not predispose to tibial compartment syndrome as other special positioning (tuck, kneeling) does. The continuous nerve stimulation during the evocated potential monitoring may have contributed to the development of the compartment syndrome. High suspicion for compartment syndrome because of unexplained leg pain, early diagnosis and urgent intervention (fasciotomy) is required for good results.
Downloads
Download data is not yet available.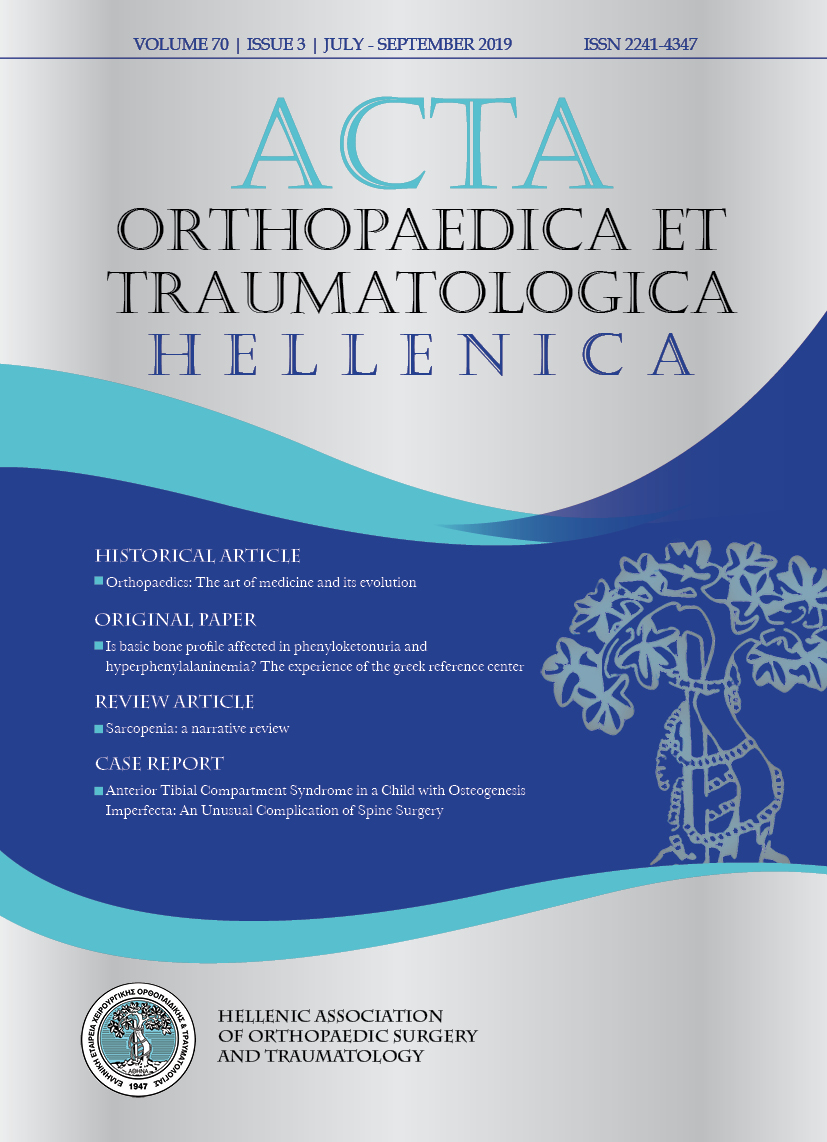 Copyright (c) 2020 Acta Orthopaedica Et Traumatologica Hellenica
This work is licensed under a Creative Commons Attribution-NonCommercial 4.0 International License.