Spinal Cord Compression in a Patient with Hereditary Sensory and Autonomia Neuropathic by Silent Spondylodiscitis
Antonios Agggoules

Nick Sekouris

Lito Flouda
Keywords:
Hereditary Sensory Autonomia Neuropathic, Familial dysautonomia, syndrome Riley-Day, spinal cord compression.
Abstract
Study Design. Case Report Objective. To report a case of lumbar spinal cord compression caused by spondylodiscitis in a patient with Hereditary Sensory Autonomia Neuropathic (HSAN) type 3.
Summary of Background Data. To our knowledge, there have been no previous reports of spinal cord compression in patients with HSAN type 3 by spondylodiscitis.
Methods. A 53 years-old male with HSAN type 3 underwent surgical decompression L4-L5 and posterior fusion L3-S1 because of spinal cord compression due to silent spondylodiscitis. Medical history, clinical and laboratory findings, and imaging exams of the preoperative and postoperative course were collected and documented.
Results. The patient had resolution of his neurologic symptoms postoperatively. The histologic exam revealed chronic spondylodiscitis. Antibiotic treatment had been given for 4 weeks. The patient was free of symptoms and infections after 6 months of follow-up.
Conclusions. One must have high clinical suspicion during the clinical assessment of patients with HSAN because the hereditary loss of pain could cover a severe pathologic progress.
Downloads
Download data is not yet available.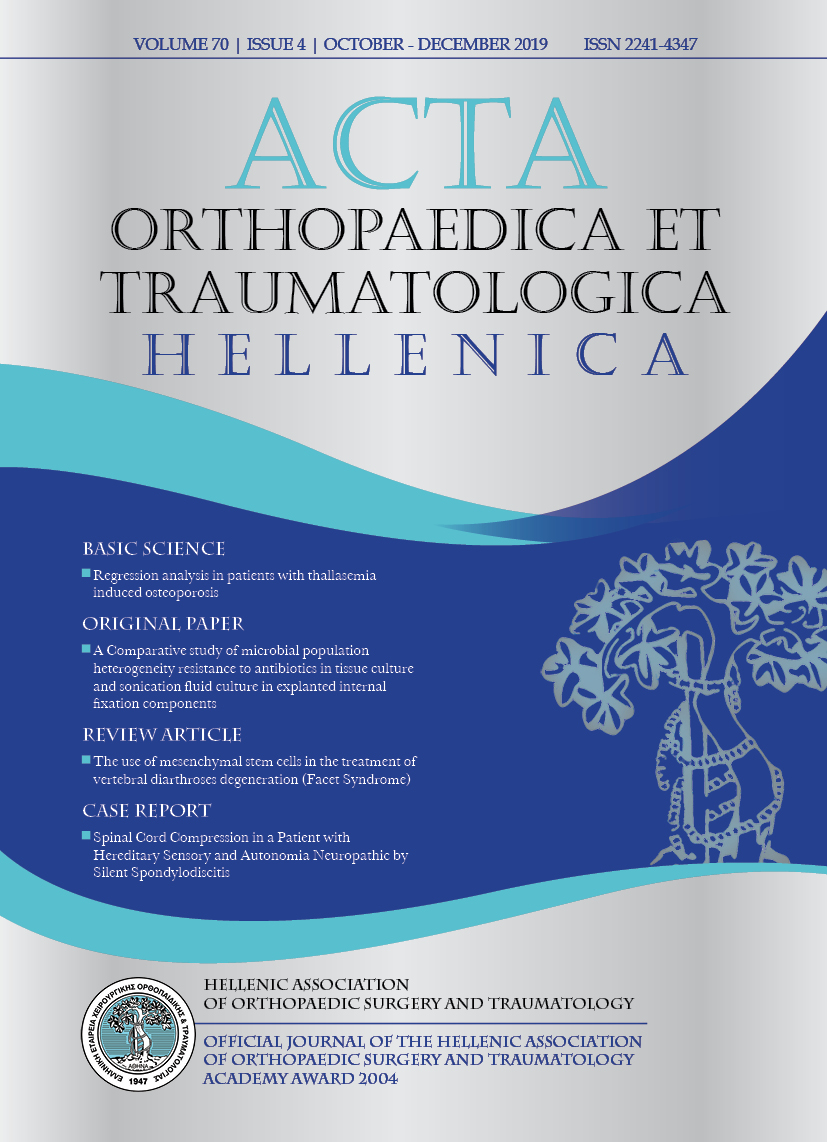 Copyright (c) 2020 Acta Orthopaedica Et Traumatologica Hellenica
This work is licensed under a Creative Commons Attribution-NonCommercial 4.0 International License.