Arthroscopic repair of massive rotator cuff tears an effective and safe treatment option.
G. Avramidis

A. Trellopoulos

E. Brilakis

E. Antonogiannakis
Keywords:
Rotator cuff; massive rotator cuff tear; shoulder arthroscopy
Abstract
Purpose: The aim of the study is to evaluate the functional outcomes and the safety of arthroscopic repair in patients with rotator cuff massive tear at mid-term follow-up.
Materials and Methods: During a period of 4 years, 74 patients with average age of 65.5 years were treated with arthroscopic rotator cuff repair by the same surgeon in our department for massive rotator cuff tears. The mean time of follow up was 42 months. Functional outcomes were evaluated preoperatively and postoperatively with the Visual Analog Scale (VAS) for Pain, the active range of motion, the American Shoulder and Elbow Surgeons (ASES) Score and the Constant Score.
Results: The mean range of motion and the mean VAS for pain improved significantly from preoperatively to postoperatively. The mean ASES score improved from 50,4 preoperatively to 95 postoperatively and the mean Constant score improved from 40,7 to 77,4.
Conclusions: Patients with massive rotator cuff tears improved significantly the functional outcomes after arthroscopic repair as evaluated with ASES and Constant score, VAS and the mean Range of Motion. The majority of patients state that they are very satisfied with this treatment option. The arthroscopic repair is an effective and safe procedure to manage massive rotator cuff tears.
Downloads
Download data is not yet available.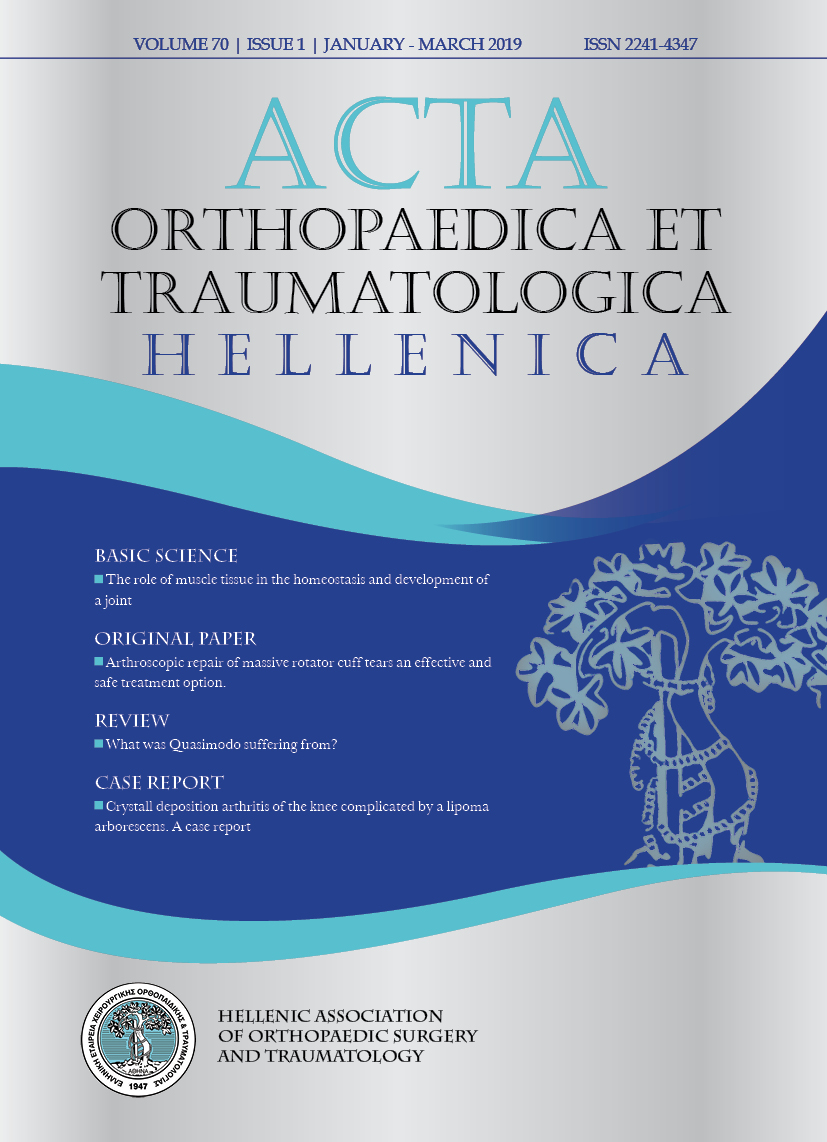 Copyright (c) 2020 Acta Orthopaedica Et Traumatologica Hellenica
This work is licensed under a Creative Commons Attribution-NonCommercial 4.0 International License.