Classifications for the odontoid fracture: The significance and application of the "Korres classification"
Konstantinos N. Markatos

Nikolaos E. Efstathopoulos

Maria Kyriaki Kaseta

John Lazaretos

Demetrios S. Chytas

Vasileios S. Nikolaou
Keywords:
odontoid process fracture; classification; review; treatment choice; cervical spine
Abstract
Purpose: Our intention with this article is to review current literature concerning the classification of the fractures of the odontoid process and present their treatment concerning classification with special emphasis to the Korres classification that we routinely use. In addition we intend to review and summarize the classification significance and compare their usefulness with one another.
Methods: We conducted an extensive search in the literature using PubMed, Web of Science and Google Scholar and used in our study the most important of such articles.
Results: Fractures of the odontoid process represent a particular entity; they need a careful handling as their behavior is not easily predictable. Diagnosis of the correct type of fracture is very important. Complications due to multiple factors, are usual and have to be carefully managed. Pseudarthrosis is the most common complication related to many factors the most important being instability.
Conclusions: The Korres classification has been proven successful and is now considered more realistic as it is simple, it includes the whole spectrum of fractures, it refers to one single anatomical structure, it correlates to the biomechanics of the axis, it indicates the prognosis and it suggests the management of the fracture. The study of cases by Korres et al. revealed some directions for the development and treatment of these fractures. It is showed that type A and D fractures can and should be treated conservatively; they usually have a good prognosis. Type B fractures are prone to further complications and hence should be treated – in their majority - surgically. Type C fractures need to be followed closely and in case of instability and/or late displacement have to be operated.
Downloads
Download data is not yet available.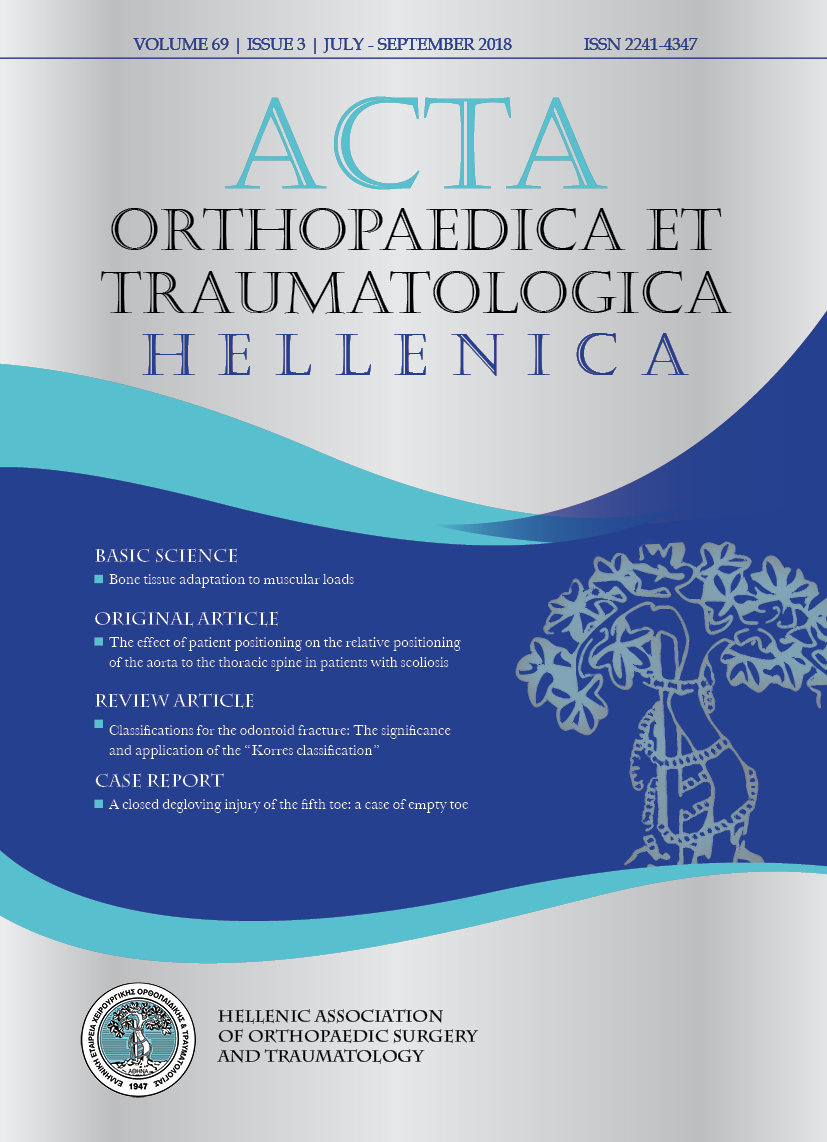 Copyright (c) 2020 Acta Orthopaedica Et Traumatologica Hellenica
This work is licensed under a Creative Commons Attribution-NonCommercial 4.0 International License.