Adult Acquired Flatfoot Deformity
Keywords:
Flatfoot; planovalgus; pes planus; tibialis posterior
Abstract
Tibialis posterior tendon insufficiency can be the cause or the result of Adult Acquired Flatfoot Deformity. Other causes include midfoot arthritis, spring ligament rupture, accessory navicular detachment, acute rupture of tibialis posterior tendon or deep deltoid ligament, hallux valgus. In the early stages the hindfoot remains flexible, whilst later it can become rigid. Ankle valgus alignment and degeneration can also be present in some patients. Orthotics and physiotherapy constitute the first line treatment. Open or endoscopic tibialis posterior tendon debridement is indicated in the earlier stage, when no deformity is present. Calcaneal medialisation osteotomy and flexor digitorum tendon transfer are usually performed in flexible flatfeet, whilst additional medial (Cotton medial cuneiform osteotomy or midfoot arthrodesis) and/or lateral column (calcaneal lengthening osteotomy or calcaneocuboid arthrodesis) procedures, can be considered if the forefoot remains supinated after hindfoot neutralisation. Rigid feet can require corrective arthrodesis of the subtalar, talonavicular +/- calcaneocuboid joints. Gastrocnemius or Achilles tendon lengthening are often required to allow deformity correction. Ankle arthritis requiring usually tibiotalocalcaneal arthrodesis.
Downloads
Download data is not yet available.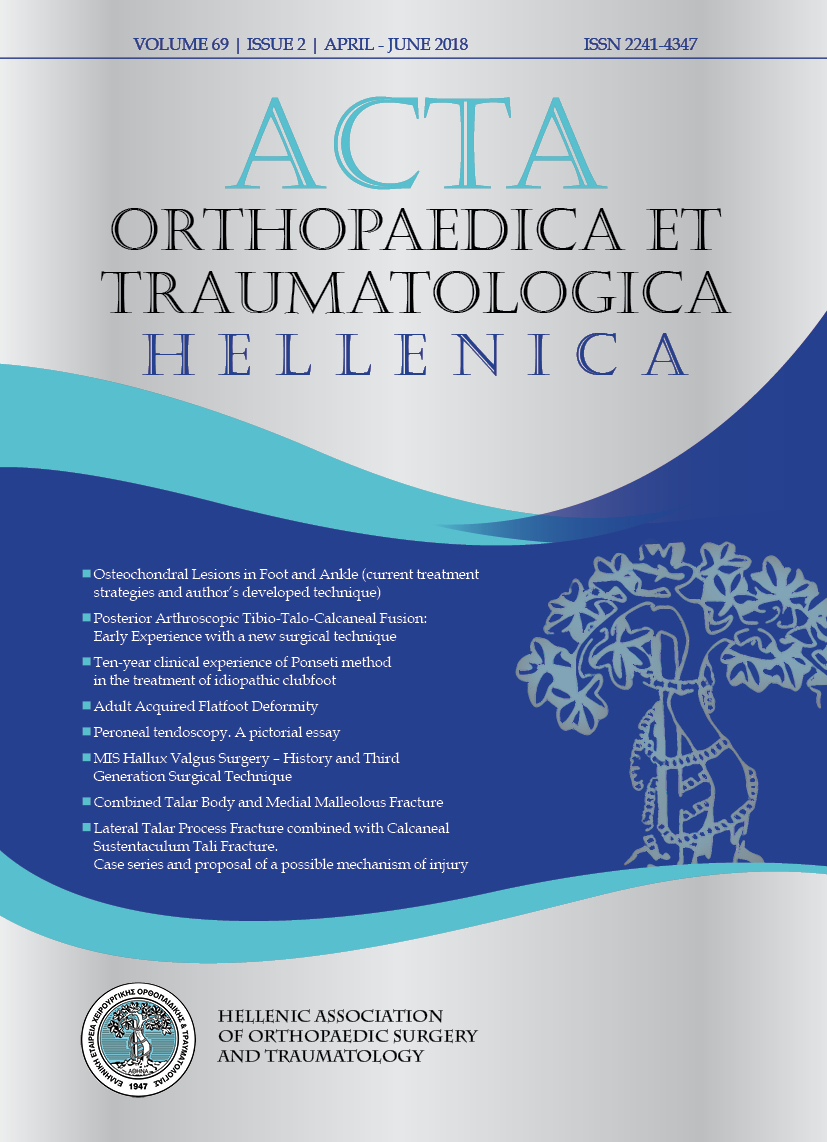 Copyright (c) 2020 Acta Orthopaedica Et Traumatologica Hellenica
This work is licensed under a Creative Commons Attribution-NonCommercial 4.0 International License.