Ten-year clinical experience of Ponseti method in the treatment of idiopathic clubfoot
Nikolaos G. Markeas

Dimitrios Begkas

Christos Apergis

Andreas Kondylis

Konstantinos Theodoridis
Keywords:
idiopathic clubfoot, Ponseti method, experience
Abstract
Idiopathic clubfoot is the most common congenital deformity of the musculoskeletal system. Apart from the idiopathic form of the disease, this characteristic deformity has also been observed in the clinical picture of some syndromes, neuromuscular diseases or arthrogryposis multiplex congenita. Its etiology is not fully known, and there is disagreement among researchers about its treatment. The purpose of this study is to review the patients with idiopathic clubfoot treated with the Ponseti method between 2007-2016, with particular emphasis on the minimal cases that method failed and the literature data. In our department, 187 feet were treated in 123 infants (89 males and 34 females) aged 22 days (ranging from 5 days to 5 months). Ponseti's instructions have been precisely applied both during the manipulation exercises and the application of the plaster casts as well as during the implementation of Denis Browne brace. Achilles tenotomy was required in all unilateral cases (59 feet) and 49 cases of bilateral deformity (98 feet). In order to evaluate the severity of the disease and the improvement of the deformity during treatment, we used the Dimeglio scoring system. Radiological tests were required in very few cases after 6 months, in order to confirm the clinical outcome. In a follow-up of 12 months to 7 years, we had very good results. There was a great improvement of the deformity, with a full range of motion, without foot pain, calluses, hyperkeratoses or any difficulty in footwear. Patients were very satisfied with treatment results and able to participate in sports activities. In 7 cases a repeat of the procedure was required, while 4 cases of relapse were surgically treated with limited postero-lateral soft tissue release. Two girls presented a leg length discrepancy of 2-3 centimeters. One of them was treated with shoe modification, while the other was subjected to a temporary epiphysiodesis of the longer leg at the age of 10 years. We believe that the complete understanding of the pathogenesis of the disease, the excellent collaboration with parents and the correct application of the Ponseti's method, make it beneficial in any case of severe idiopathic clubfoot, when we want to avoid relapse of the deformity.
Downloads
Download data is not yet available.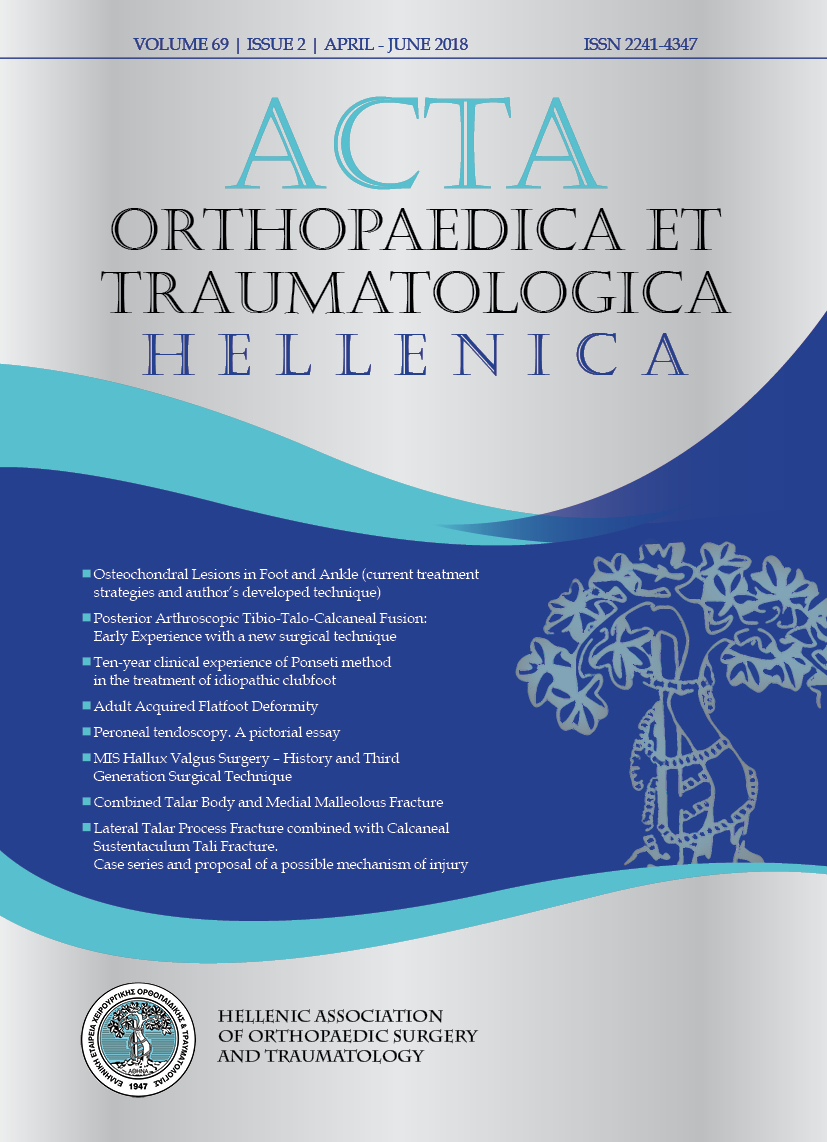 Copyright (c) 2020 Acta Orthopaedica Et Traumatologica Hellenica
This work is licensed under a Creative Commons Attribution-NonCommercial 4.0 International License.