Osteochondral Lesions in Foot and Ankle (current treatment strategies and author's developed technique)
Keywords:
Osteochondral lesions; Osteochondritis dissecans; Talus; Foot and ankle; Cartilage damage; Subchondral bone
Abstract
Osteochondral lesion of the talus (OLT) is a broad term used to describe an injury or abnormality of the talar articular cartilage and adjacent bone. A variety of terms have been used to refer to this clinical entity, including osteochondritis dissecans (OCD), osteochondral fracture and osteochondral defect. Whether OLT is a precursor to more generalised arthrosis of the ankle remains unclear, but the condition is often symptomatic enough to warrant treatment. In more than one third of cases, conservative treatment is unsuccessful, and surgery is indicated. There is a wide variety of treatment strategies for osteochondral defects of the ankle, with new techniques that have substantially increased over the last decade. The common treatment strategies of symptomatic osteochondral lesions include nonsurgical treatment, with rest, cast immobilisation and use of nonsteroidal anti-inflammatory drugs (NSAIDs). Surgical options are lesion excision, excision and curettage, excision combined with curettage and microfracturing, filling the defect with autogenous cancellous bone graft, antegrade (transmalleolar) drilling, retrograde drilling, fixation and techniques such as osteochondral transplantation [osteochondral autograft transfer system (OATS)] and autologous chondrocyte implantation (ACI). Furthermore, smaller lesions are symptomatic and when left untreated, OCDs can progress; current treatment strategies have not solved this problem. The target of these treatment strategies is to relieve symptoms and improve function. Publications on the efficacy of these treatment strategies vary. In most cases, several treatment options are viable, and the choice of treatment is based on defect type and size and preferences of the treating clinician.
Downloads
Download data is not yet available.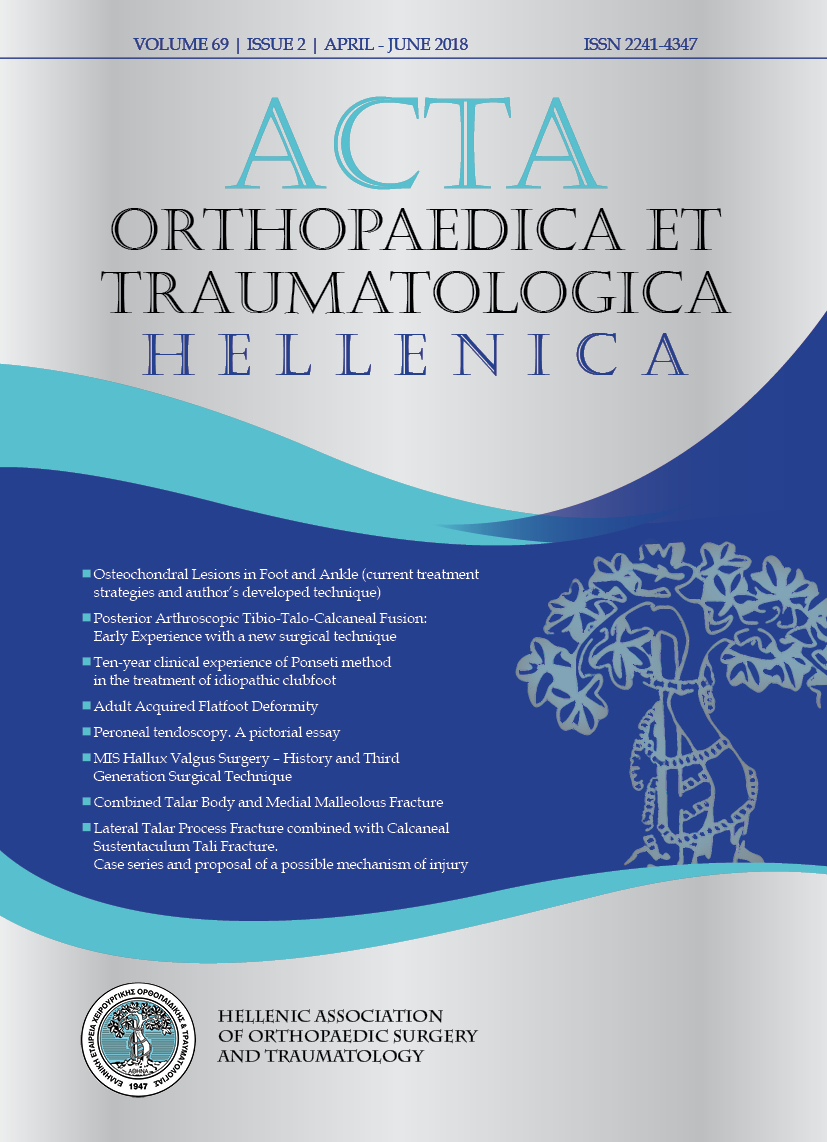 Copyright (c) 2020 Acta Orthopaedica Et Traumatologica Hellenica
This work is licensed under a Creative Commons Attribution-NonCommercial 4.0 International License.