School scoliosis screening, a program useful not only for the prevention of scoliosis: Part one
Historical data, policies of administration, clinical and practical considerations setting up a school scoliosis screening program and an effective protocol.
Theodoros B GRIVAS

Dr. Theodoros B. GRIVAS, MD PhD, Orthopaedic Surgeon, Former head of the Traumatology and Orthopaedic Department of "Tzaneio" General Hospital of Piraeus, Piraeus, Greece Email: grivastb@gmail.com; tgri69@otent.gr

https://orcid.org/0000-0003-3018-5168
Keywords:
School scoliosis screening - SSS, history, administration, clinical considerations, practical considerations, setting up SSS, protocol, anthropometry, Adam test
Abstract
. This report presents an introduction and brief historical data about the school scoliosis screening programs (SSS) and the universal policies for its administration. The clinical and practical considerations/topics for setting up and running the SSS programs for any SSS program examiner are described and analyzed. A protocol is proposed to implement a SSS program. The parameters of the proposed protocol are presented and analyzed, explaining why these specific parameters are included. This protocol may hopefully be used by other interested in SSS orthopaedic teams for the in depth study of idiopathic scoliosis (IS).
Downloads
Download data is not yet available.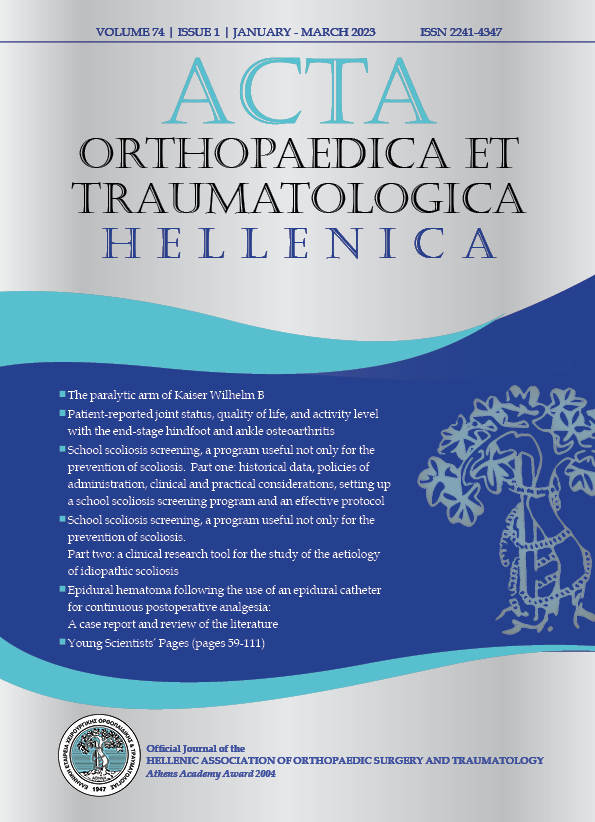 Copyright (c) 2023 Acta Orthopaedica Et Traumatologica Hellenica
This work is licensed under a Creative Commons Attribution-NonCommercial 4.0 International License.