Sleeping Disorders and the Effects on Health of Patients with Spinal Cord Injury
Michail Poulopoulos

Ioannis S. Benetos

Ioannis Vlamis

Spyridon G. Pneumaticos
Keywords:
sleep disturbances, spinal cord injury, sleep breathing disorders, sleep movement disorders, sleep quality
Abstract
Introduction: Spinal cord injury (SCI) is recognized as a disability affecting every aspect of patients' lives. Compared to the able bodied population, sleep disturbances are more frequent in patients with SCI and can lead to dysfunction that negatively affects quality of life. However, many healthcare providers omit to determine the quality of sleep of SCI patients or are not aware of insomnia symptoms such as restless legs or sleep apnea. A review of the current literature was performed in order to highlight the association between SCI and sleep disturbances, the importance of awareness of sleep disturbance symptoms and how these affect the overall health and quality of life of SCI patients. By using the online Pubmed database and the PRISMA guidelines, studies regarding sleeping disorders and their effect on SCI patients were identified. Results: SCI patients often suffer from sleeping disturbances which can cause severe health problems. More specifically, these patients have increased risk of developing depression, obesity, cardiovascular diseases, hypertension and sleep related breathing problems. Patients are also in increased risk for experiencing pain, fatigue, daytime sleepiness and loss of communication. Conclusion: Sleep disturbances are associated with SCI in a great extend and can lead to multiple medical complications. The pivotal role that sleep is having in overall health and quality of life cannot be underestimated.
Downloads
Download data is not yet available.
References
1. Giannoccaro MP, Moghadam KK,Pizza F,et al. Sleep disorders in patients with spinal cord injury. Sleep Medicine Reviews 2013;399-409
2. Sankari A, Badr MS,Martin JL,et al. Impact of Spinal Cord Injury On Sleep:Current Perspectives. Nature and Science of Sleep 2019;11:219-229
3. Castriotta RJ,Wilde MC,Sahay S,et al. Sleep disorders in Spinal Cord Injury. Sleep Med Clin 7 2012;643-653
4. Telles SC,Alves RC,Chadi G. Periodic limb movements during sleep and restless legs syndrome in patients with ASIA A spinal cord injury.J Neurol Sci 2011;303:119-23
5. Peters AEJ, van Silfhout L,Graco M , Graco M,et al. Periodic limb movements in tetraplegia.The Journal of Spinal Cord Medicine 2018;41(3):318-324
6. Shafazand S, Anderson KD,Nash MS. Sleep Complaints and Sleep Quality in Spinal Cord Injury: A Web-Based Survey. Journal of Clinical Sleep Medicine 2019;15(5):719-724
7. Sankari A,Bascom A,Ooman S,Badr MS. Sleep Disordered Breathing in Chronic Spinal Cord Injury. Journal of Clinical Sleep Medicine 2014;10(1):65-72
8. Bascom AT, Sankari A, Goshgarian HG M. ,Badr S. Sleep onset hypoventilation in chronic spinal cord injury. Physiol Rep, 3 (8), 2015
9. Mehta S,Orenczuk S,Hansen K,et al. An evidence-based review of the effectiveness of cognitive behavioral therapy or psychosocial issues post-spinal cord injury. Rehabilitation Psychology ,56(1),15-25.
10. Tran K,Hukins C,Geraghty T, Eckert B, Fraser L. Sleep-disordered breathing in spinal cord-injured patients:a short-term longitudinal study. Respirology 2010;15:272-6
11. Berlowitz DJ,Spong J,Gordon I,Howard ME,Brown DJ.Relationships Between Objective Sleep Indices and Symptoms in a Community Sample of People with tetraplegia. Archieves of Physical Medicine and Rehabilitation 2012;93(7):1246-1252
12. Bauman KA,Kurili A,Schotland HM,Rodriguez GM,Chiodo AE,Sitrin RG. Simplified Approach to Diagnosing Sleep-Disordered Breathing and Nocturnal Hypercapnia in Individuals With Spinal Cord Injury . Archieves of Physical Medicine and Rehabilitation 2016;97(3):363-371
13. Brown JP, Bauman KA, Kurili A, Rodriguez GM ,Chiodo AE, Sitrin RG, Schotland HM. Positive airway pressure therapy for sleep-disordered breathing confers short-term benefits to patients with spinal cord injury despite widely ranging patterns of use. Spinal Cord 2018;56:777–789
14. Berlowitz DJ, Schembri R, Graco M, et al. Positive airway pressure for seep-disordered breathing in acute quadriplegia: a randomized controlled trial. Thorax.2019;74(3):282-290
15. Wijesuriya N, Tran Y, Middleton J, Craig A. Impact of fatigue on the health-related quality of life in persons with spinal cord injury. Arch Phys Med Rehabil.2012;93(2):319-324
16. Thijssen DH,Eisvogels TM, Hesse M,Ballack DB, Atkinson G, Hopman MT. The effects of thoracic and cervical spinal cord lesions on the circadian rhythm of core body temperature. Chronobiol Int 2011;28:146-54
17. Spong J, Kennedy GA, Brown DJ, Armstrong SM, Berlowitz DJ. Melatonin supplementation in patients with complete tetraplegia and poor sleep. Sleep Disord. 2013;2013
18. La Vela SL,Burns SP,Goldstein B. Dysfunctional sleep in persons with spinal cord injuries and disorders .Spinal Cord 2012;50:682-5
19. Clark, J. M. R., Twamley, E. W., & Krause, J. S. Mental health, pain, and sleep factors associated with subjective cognitive difficulties in individuals with spinal cord injury. Rehabilitation Psychology, 66(3), 248–256
20. Fogelberg DJ, Hughes AJ, Vitiello MV, Hoffman JM, Amtmann D. Comparison of Sleep Problems in Individuals with Spinal Cord Injury and Multiple Sclerosis. Journal of Clinical Sleep Medicine 2016;12(5):695-701
21. Fogelberg DJ,Leland NE,Blanchard J, Rich TJ, Clark FA. Experience of sleep in individuals with spinal cord injury.OTJR(Thorofare NJ)2017;37(2):89-97
22. Avluk OC, Gurcay E, Gurcay AG, Karaahmet OZ,Tamkan U,Cakci A, Effects of chronic pain on function ,depression, and sleep among patients with traumatic spinal cord injury. Ann Saudi Med 2014;34(3):211-216
23. Hassanijirdehi M , Khak M , Afshari-Mirak S , Holakouie-Naieni K, Saadat S , Taheri T , Rahimi-Movaghar V. Evaluation of Pain and Its Effect on Quality of Life and Functioning in Men with Spinal Cord Injury. Korean J Pain 2015;28(2): 129-136
24. January AM, Zebracki K, Chlan KM, Vogel LC. Poor sleep in adults with pediatric –onset spinal cord injury: associations with pain, health, and activity. The Journal of Spinal Cord Medicine 2017;40(5):560-566
25. Alvaro PK,Roberts RM,Harris JK,Bruni O. The direction of the relationship between symptoms of insomnia and psychiatric disorders in adolsescents. Journal of Affective Disorders 2017:167-174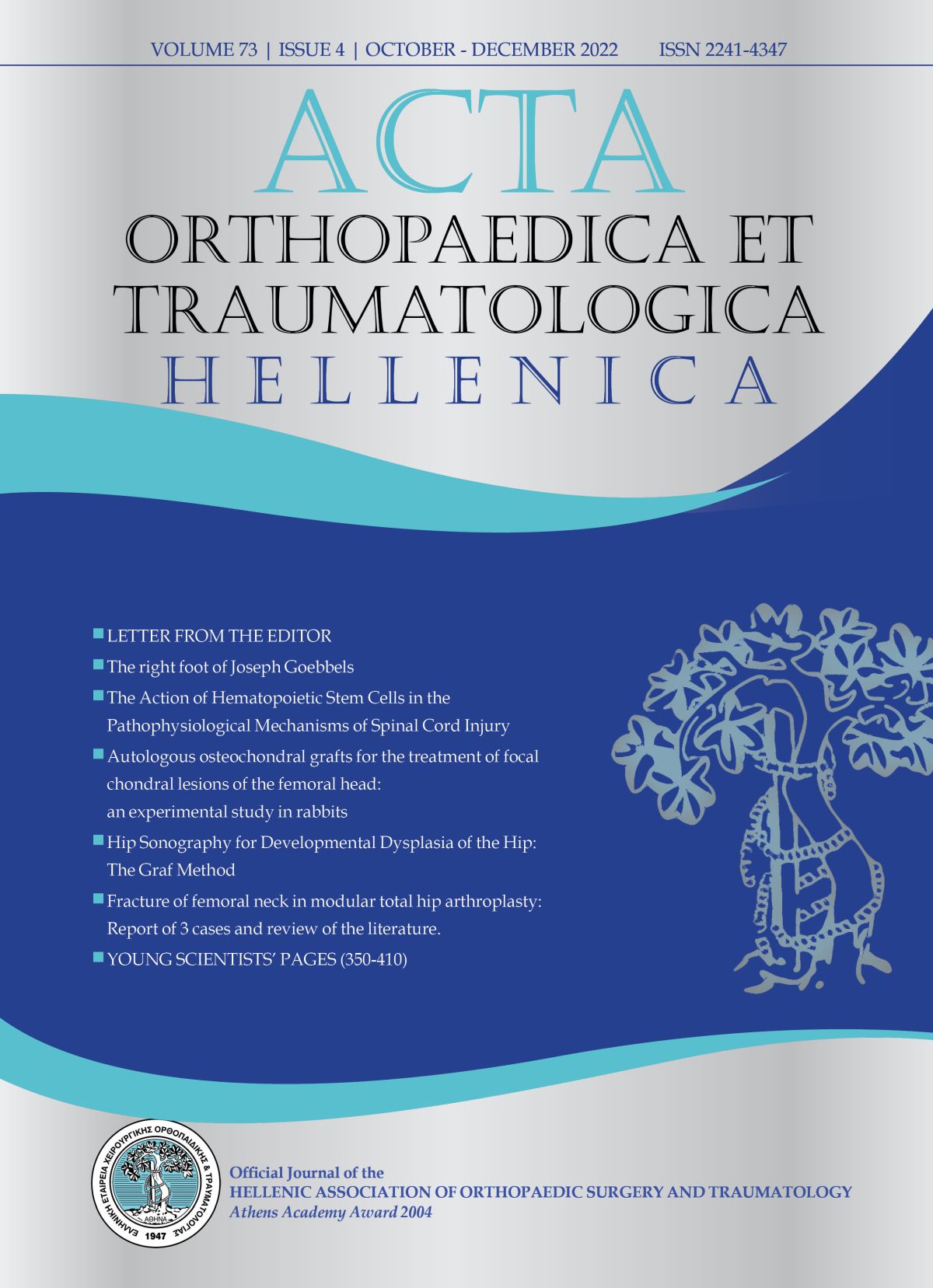 Section
Young Scientists Pages
Copyright (c) 2022 Acta Orthopaedica Et Traumatologica Hellenica
This work is licensed under a Creative Commons Attribution-NonCommercial 4.0 International License.