Autologous osteochondral grafts for the treatment of focal chondral lesions of the femoral head: an experimental study in rabbits
Spyridon Sioutis

Vasileios Karampikas

Konstantinos Avgerinos

Pavlos Altsitzioglou

Andreas F. Mavrogenis

Dimitrios Koulalis
Keywords:
Articular cartilage; Chondral lesions; Osteochondral grafts; Autologous; Rabbits
Abstract
The use of autologous osteochondral graft is a useful method for the treatment of cartilaginous lesions. In our study we compared the results of autologous osteochondral graft and simple drilling in cartilaginous lesions in rabbits. The graft was taken from the lateral femoral condyle and put in the hip joint. We evaluated the histological quality of the femoral head 24 weeks after the usage of the graft or the simple drilling for the treatment of the osteochondral defect. Autologous osteochondral graft had excellent results, with high quality new articular surface in comparison with the results of drilling. However, the usage of autologous osteochondral is far more difficult than drilling the osteochondral defect.
Downloads
Download data is not yet available.
References
1. Imhoff AB, Oetl GM, Burkart A, Traub S. Osteochondrale autologe transplantation an vershiedenen Gelenken. Orthopade 1999;28:33-44.
2. Hangody L, Fueles P. Autologous Osteochondral Mosaicplasty for the treatment of full -thickness defects of weight-bearing joints J Bone Joint Surg 2003;85A(2):25-32.
3. Koulalis D, Schultz W, Heyden M, Koenig F. Autologous osteochondral grafts in the treatment of cartilage defects of the knee joint. Knee Surg Sports Traumatol Arthrosc 2004;12:329-334.
4. Mainil-Varlet P, Aigner T, Brittberg M, Bullough P, Hollander A, Hunziker E, Kandel R, Nehrer S, Pritzker K, Roberts S, Staufer E. Histological assessment of cartilage repair J Bone Joint Surg 2003;85 A:Suppl 2.
5. Stromquist B, Nilsson L, Egund N, Thorngren K, Wingstrand H. Intracapsular pressures in undisplaced fractures of the femoral neck. J Bone Joint Surg 1988;70B:192-194.
6. Steadman RJ, Rodkey WG, Rodrigo JJ. Microfracture: Surgical technique and rehabilitation to treat chondral defects. Clin Orthop Relat Res 2001l391S:361-369.
7. Frisbie DD, Oxford JT, Southwood L, Trotter GW, Rodkey WG, Steadman JR, Goodnight JL, Mc Ilwraith CW. Early events in cartilage repair after subchondral bone microfracture Clin Orthop Relat Res 2003;407:215-227.
8. Breinan HA, Martin SD, Hsu HP, Spector M. Healing of canine articular cartilage defects treated with microfracture, a type II collagen matrix, or cultured autologous chondrocytes. J Orthop Res 2000;18(5):781-789.
9. De Palma AF, McKeever CD, Subin SK. Process of repair of articular cartilage demonstrated by histology and autoradiography with tritiared thymidine. Clin Orthop Relat Res 1996;48:229-242.
10. Mitchell N, Shepard N. The resurfacing of adult rabbit articular cartilage by multiple perforations through the subchondral bone. J Bone Joint Surg 1976;58A:230-233.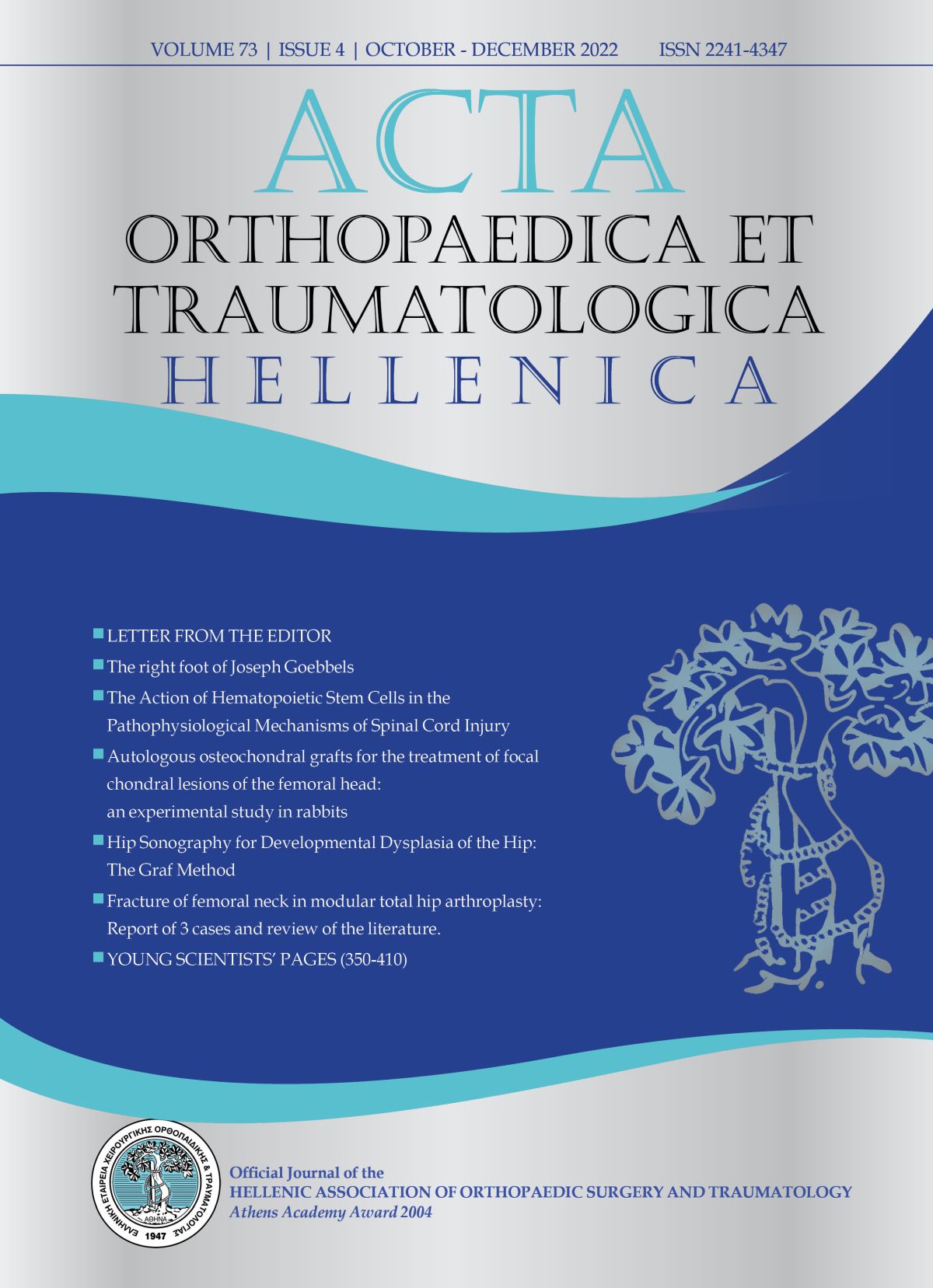 Copyright (c) 2022 Acta Orthopaedica Et Traumatologica Hellenica
This work is licensed under a Creative Commons Attribution-NonCommercial 4.0 International License.