Adult Scoliosis: Therapeutic Approach and Spinal Pain Management
Maria Kontopanou

Ioannis S Benetos

Spyridon G. Pneumaticos

Ioannis Vlamis
Keywords:
adult, scoliosis, pain, conservative treatment, spinal fusion
Abstract
Advancing adult scoliosis may lead in deterioration of patients' overall health and progressive disability. It can be a quite complex disorder to manage; however, nowadays there are several conservative and surgical therapeutic approaches. The aim of this study was to review the current literature concerning the therapeutic management of patients with adult scoliosis and the management of spinal pain that the majority of these patients experience. The review of the current literature was carried out by using the online PubMed database and the following keywords: ("adult" [MeSH Terms] AND ("scoliosis" [MeSH Terms] AND ("pain" [MeSH Terms] AND ("conservative treatment" [MeSH Terms] AND ("spinal fusion" [MeSH Terms]. The primary search recovered 3.941 publications. In the initial screening of abstracts and titles, 3,902 articles were excluded because of either irrelevant titles or not matching content. From the remaining 39 studies, in which the full text was assessed, 12 were rejected due to particular reasons. Finally, 27 studies were included in this review. In conclusion, a variety of therapeutic approaches for adult scoliosis exist. The type of treatment depends on various factors and has to be personalized. The prevailing aspect is that patients with moderate scoliosis should seek conservative treatment first, as long as there isn't any serious deterioration in their symptoms and quality of life. Conservative management should be exhausted before any decision for surgery is taken.
Downloads
Download data is not yet available.
References
1. Palmisani M, Dema E, Cervellati S. Surgical treatment of adult degenerative scoliosis. Eur Spine J 2013; 22:S829-33.
2. Ersberg A, Gerdhem P. Pre- and postoperative quality of life in patients treated for scoliosis. Acta Orthop 2013; 84(6):537.
3. Weiss HR, Turnbull D. Non-specific chronic low back pain in patients with scoliosis-an overview of the literature on patients undergoing brace treatment. J Phys Ther Sci. 2019; 31(11):960.
4. Silva FE, Lenke LG. Adult degenerative scoliosis: evaluation and management. Neurosurg Focus 2010; 28(3).
5. Bettany-Saltikov J, Turnbull D, Ng SY, et al. Management of Spinal Deformities and Evidence of Treatment Effectiveness. Open Orthop J 2017; 2911:1521-1547.
6. Palazzo C, Montigny JP, Barbot F, et al. Effects of Bracing in Adult with Scoliosis: A Retrospective Study. Arch Phys Med Rehabil 2017; 98(1):187-190.
7. McAviney J, Mee J, Fazalbhoy A, et al. A systematic literature review of spinal brace/orthosis treatment for adults with scoliosis between 1967 and 2018: clinical outcomes and harms data. BMC Musculoskelet Disord 2020 8;21(1):87.
8. Teles AR, Mattei TA, Righesso O, Falavigna A. Effectiveness of Operative and Nonoperative Care for Adult Spinal Deformity: Systematic Review of the Literature. Global Spine J 2017; 7(2):170-178.
9. Afolayan JO, Shafafy R, Maher M, et al. Assessment and management of adult spinal deformities. Br J Hosp Med (Lond) 2018; 2;79(2):79-85.
10. Smith JS, Shaffrey CI, Glassman SD, et al; Spinal Deformity Study Group. Risk-benefit assessment of surgery for adult scoliosis: an analysis based on patient age. Spine (Phila Pa 1976). 2011; 1:36(10):817-24.
11. Özyemişci Taşkıran Ö. Rehabilitation in adult spinal deformity. Turk J Phys Med Rehabil. 2020; 16;66(3):231-243.
12. Sciubba DM, Scheer JK, Yurter A, et al; International Spine Study Group (ISSG). Patients with spinal deformity over the age of 75: a retrospective analysis of operative versus non-operative management. Eur Spine J 2016; 25(8):2433-41.
13. Zaina F, Poggio M, Donzelli S, et al. Can bracing help adults with chronic back pain and scoliosis? Short-term results from a pilot study. Prosthet Orthot Int 2018; 42(4):410-414.
14. Protopsaltis TS, Boniello AJ, Schwab FJ. Management of Spinal Deformity in Adult Patients with Neuromuscular Disease. J Am Acad Orthop Surg 2016; 24(9):634-44.
15. Brooks JT, Sponseller PD. What's New in the Management of Neuromuscular Scoliosis. J Pediatr Orthop 2016; 36(6):627-33.
16. Graham RB, Sugrue PA, Koski TR. Adult Degenerative Scoliosis. Clin Spine Surg 2016; 29(3):95-107.
17. Ko JY, Suh JH, Kim H, et al. Proposal of a new exercise protocol for idiopathic scoliosis: A preliminary study. Medicine (Baltimore) 2018; 97(49):e13336.
18. Negrini A, Negrini MG, Donzelli S, et al. Scoliosis-Specific exercises can reduce the progression of severe curves in adult idiopathic scoliosis: a long-term cohort study. Scoliosis 2015; 11; 10:20.
19. Park JH, Jeon HS, Park HW. Effects of the Schroth exercise on idiopathic scoliosis: a meta-analysis. Eur J Phys Rehabil Med 2018; 54(3):440-449.
20. Alanazi MH, Parent EC, Dennett E. Effect of stabilization exercise on back pain, disability and quality of life in adults with scoliosis: a systematic review. Eur J Phys Rehabil Med 2018; 54(5):647-653.
21. Monticone M, Ambrosini E, Cazzaniga D, et al. Adults with idiopathic scoliosis improve disability after motor and cognitive rehabilitation: results of a randomised controlled trial. Eur Spine J 2016; 25(10):3120-3129.
22. Alves de Araújo ME, Bezerra da Silva E, Bragade Mello D, et al. The effectiveness of the Pilates method: reducing the degree of non-structural scoliosis, and improving flexibility and pain in female college students. J Bodyw Mov Ther 2012; 16(2):191-8.
23. Kelly MP, Lurie JD, Yanik EL, et al. Operative Versus Nonoperative Treatment for Adult Symptomatic Lumbar Scoliosis. J Bone Joint Surg Am 2019; 20;101(4):338-352.
24. Smith JS, Lafage V, Shaffrey CI, et al. Outcomes of Operative and Nonoperative Treatment for Adult Spinal Deformity: A Prospective, Multicenter, Propensity-Matched Cohort Assessment with Minimum 2-Year Follow-up. Neurosurgery 2016; 78(6):851-61.
25. Smith JS, Shaffrey CI, Berven S, et al; Spinal Deformity Study Group. Improvement of back pain with operative and nonoperative treatment in adults with scoliosis. Neurosurgery 2009; 65(1):86-93;93-4.
26. Diebo BG, Shah NV, Boachie-Adjei O, Zhu F, Rothenfluh DA, Paulino CB, Schwab FJ, Lafage V. Adult spinal deformity. Lancet. 2019; 13;394(10193):160-172.
27. Kotwal S, Pumberger M, Hughes A, Girardi F. Degenerative scoliosis: a review. HSS J. 2011; 7(3):257-64.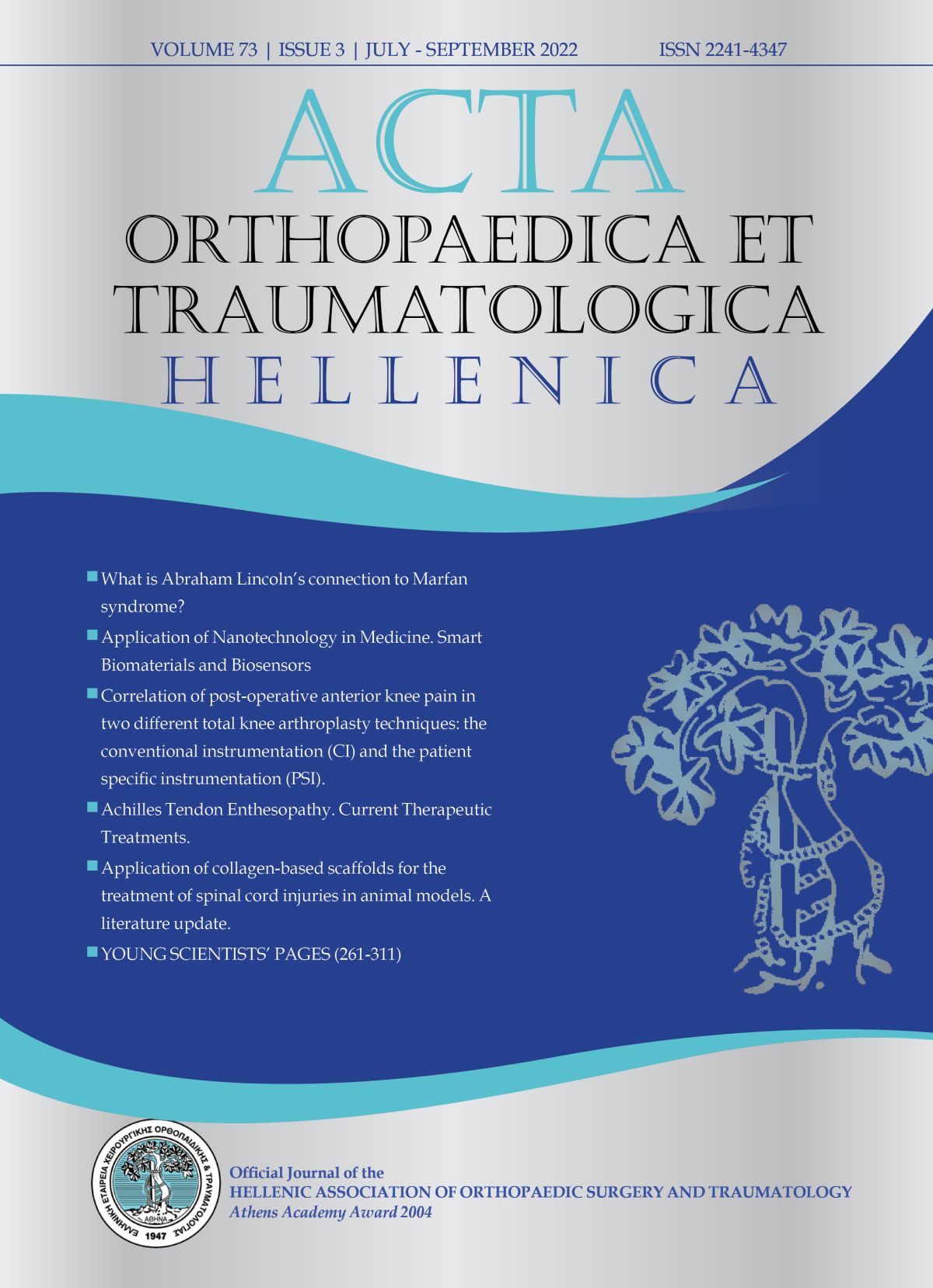 Section
Young Scientists Pages
Copyright (c) 2022 Acta Orthopaedica Et Traumatologica Hellenica
This work is licensed under a Creative Commons Attribution-NonCommercial 4.0 International License.