The effectiveness of acupuncture in patients with low back pain
Sotirios Birintzis

Ioannis S. Benetos

Ioannis Vlamis
Keywords:
acupuncture, dry needling, low back pain
Abstract
The incidence of low back pain (LBP) has increased dramatically during the last 20 years. The usual management of LBP is conservative through pharmacologic and non-pharmacologic treatments. One of the non-pharmacologic treatments that are frequently used nowadays is acupuncture. Acupuncture is one of the oldest invasive healing techniques that were used worldwide, which aims to maintain the energy flow and function of the body and has therapeutic, cumulative and analgesic effects. A part of therapeutic acupuncture is electro-acupuncture, in which some of the points used in a treatment protocol are electrically stimulated. The purpose of this study was to review and assess the effects of acupuncture and electro-acupuncture in the management of LBP due to back related conditions. For this reason, a review of the current literature was conducted using the online databases PubMed, Scopus, Science Direct and PEDro and following the PRISMA guidelines. Article titles were searched by using the following keywords: acupuncture, dry needling and low back pain. Primary search on the online databases resulted in 1555 articles. Finally, 19 articles were included in this review. In conclusion, based on the results of different studies, acupuncture seems to be a safe and effective way of managing patients suffering from specific LBP.
Downloads
Download data is not yet available.
References
1. Ministry of Health. Fractures: Health actions: «Development of 13 General Practice Guidelines for the management of the most common diseases and health conditions in Primary Health Care» Available via https://www.moh.gov.gr/articles/health/domes-kai-draseis-gia-thn-ygeia/kwdikopoihseis/4533-anaptyksh-13-kateythynthriwn-odhgiwn-genikhs-iatrikhs-gia-th-diaxeirish-twn-pio-syxnwn-noshmatwn-kai-katastasewn-ygeias-sthn-prwtobathmia-frontida-ygeias. Published March 2017
2. B W Koes, M W van Tulder, S Thomas. Diagnosis and treatment of low back pain. BMJ 2006; doi: 10.1136%2Fbmj.332.7555.1430 Epub 2006 Jun 15
3. Joshua Scott Will, David C. Bury, John A. Miller. Mechanical Low Back Pain. American Family Physician 2018; PMID: 30252425
4. Kun Hyung Kim, Yu Ri Kim,Seung Kug Baik et al. Acupuncture for patients with lumbar spinal stenosis: a randomised pilot trial. BMJ 2015; doi: 10.1136/acupmed-2015-010962 Epub 2016 Mar 7
5. Thaleia Kritidou. Bioenergy medicine traditional acupuncture. In: Kritidou 2007 ; ISBN: 1-29-000-0168.
6. Karavis Miltiadis. The road to acupuncture In: ITME. Athens 2006, pp 37-46
7. Bazzoni Giancarlo Dr. Introduction to Otoacupuncture ln: ITME. Athens 2014, pp 13-18
8. Gu Fang-fang, Zhu Gao-feng, Luo Kai-tao. Observation on clinical efficacy of warm needling therapy for chronic lumbar strain. Journal Acupunct Tuina Science 2018; doi: https://doi.org/10.1007/s11726-018-1046-y Epub 2018 Jun 21
9. Guo Q, Hua Y, Sheng F, et al. Triple needling plus moxibustion and Tanbo-plucking tender points for the third lumbar vertebra transverse process syndrome. Journal Acupuncture Tuina Science 2015; doi: https://doi.org/10.1007/s11726-015-0830-1 epub 2015 April 09
10. Chang-li, Zou. Observation on Warm Needling Therapy for Third Lumbar Vertebra Transverse Process Syndrome. Journal Acupuncture Tuina Science 2014; doi: https://doi.org/10.1007/s11726-014-0783-9 Epub 2014 Jul 30
11. Karavis Miltiadis Biomedical Acupuncture, Mechanism of Action and Therapeutic Principles of Acupuncture and Electroacupuncture. ln: εκδόσεις dKS 2011, pp 99-111, 168-178, 249-261,301-305
12. World Health Organization. WHO acupuncture list of conditions. Available via https://holistic-health.org.uk/world-health-organisation-recommends-acupuncture-100-conditions/ Published August 2017
13. Ashraf Mahmoudzadeh, Zahra Sadat Rezaeian, Abdolkarim Karimi et al. The effect of dry needling on the radiating pain in subjects with discogenic low-back pain: A randomized control trial. Journal of research in medical sciences 2016; doi: 10.4103/1735-1995.192502 Epub 2016 Oct 18
14. Tronni, Richard Rong Wang and Volker. Effect of Acupuncture on Pain Management in Patients Before and After Lumbar Disc Protrusion Surgery -A Randomized Control Study. American Journal of Chinese Medicine 2000; doi: 10.1142/S0192415X00000052 Epub 2000
15. Huang et al. Efficacy and Safety of Acupuncture for Chronic Discogenic Sciatica, a Randomized Controlled Sham Acupuncture Trial. Pain Medicine 2019; doi: https://doi.org/10.1093/pm/pnz167 Epub 2019 Aug 01
16. Kiok Kim, Kyung-Min Shin, Christy Hunt, et al. Nonsurgical integrative inpatient treatments for symptomatic lumbar spinal stenosis: a multi-arm randomized controlled pilot trial. Journal of Pain Research 2019; doi: 10.2147/JPR.S173178 Epub 2019
17. Shan-shan, Chen. Therapeutic observation on point-toward-point needling at points on the low back regions for residual back pain after percutaneous kyphoplast. Journal of Acupuncture and Tuina Science 2019; doi: http://dx.doi.org/10.1007/s11726-019-1102-2 Epub 2019 April
18. Wei An Yuan, Shi Rong Huang,Kai Guo,Wu Quan Sun,Xiao Bing Xi,Ming Cai Zhang,Ling Jun Kong,Hua Lu,Hong Sheng Zhan,and Ying Wu Cheng. Integrative TCM Conservative Therapy for Low Back Paindue to Lumbar Disc Herniation: A Randomized ControlledClinical Trial. Evidence-Based Complementary and Alternative Medicine 2013; doi: https://doi.org/10.1155/2013/309831 Epub 2013 Jun 24
19. Yu LZ, Li MD, Lou SZ, et al. Observation on therapeutic effect of aligned acupuncture for lumbar intervertebral disc herniation. Journal of Acupuncture and Tuina Science 2016; doi: https://doi.org/10.1007/s11726-016-0927-1 Epub 2016 Jun 15
20. Xue Zhang, Yang Wang,Zhao Wang,et al. A Randomized Clinical Trial Comparing the Effectiveness of Electroacupuncture versus Medium-Frequency Electrotherapy for Discogenic Sciatica. Evidence-Based Complementary and Alternative Medicine2017; doi: https://dx.doi.org/10.1155%2F2017%2F9502718 Epub 2017 April 12
21. Lynton G. F. Giles, Reinhold Müller. Chronic Spinal Pain Syndromes: A Clinical Pilot Trial Comparing Acupuncture, a NonsteroidalAnti-inflammatory Drug, and Spinal Manipulation. Journal of Manipulative and Physiological Therapeutics 1999; doi: 10.1016/s0161-4754(99)70082-5 Epub 1999 August
22. Yao-chi, WU. Clinical Effect and Infrared Thermogram on Electroacupuncture for Acute Lumbar Sprain. Journal of Acupuncture and Tuina Science 2010; doi: https://doi.org/10.1007/s11726-010-0455-3 Epub 2010 Nov 27
23. Motohiro Inoue, Miwa Nakajima, Tatsuya Hojo, et al. Spinal nerve root electroacupuncture for symptomatic treatment of lumbar spinal canal stenosis unresponsive to standard acupuncture: a prospective case series. Acupuncture in Medicine 2012; doi: 10.1136/acupmed-2011-010122. Epub 2012 Apr 25
24. Motohiro Inoue, Tatsuya Hojo et al. Pudental nerve electroacupuncture for lumbar spinal canal stenosis- a case series. Acupuncture in medicine 2008; doi: https://doi.org/10.1136/aim.26.3.140 Epub 2008 September
25. Edwin Yong Miao, Miranda Yimo Miao. Effect of Electroacupuncture on the Third Lumbar Transverse Process Syndrome: A Randomized Controlled Trial. MEDICAL ACUPUNCTURE 2010; doi: https://doi.org/10.1089/acu.2010.0764 Epub 2010 Dec 30
26. Wu Yao-chi, Sun Yi-jun, Zhang Jun-fen, Li Yan, Zhang Yi-yi, Wang Chong-miao. Qi-guiding Needling Based on Meridian Differentiation for Lumbar Disc Herniation: A Multi-centered, Randomized Controlled Trial. Journal of Acupuncture and Tuina Science 2014; doi: https://doi.org/10.1007/s11726-014-0801-y Epub 2014 Nov 28
27. You-guo, CHEN. Observation of the Therapeutic Effect of Treating Lumbar Intervertebral Disc Protrusion by Acupuncture Therapy. Journal of Acupuncture and Tuina Science 2008; doi: 10.1007/s11726-008-0232-8 Epub 2008 Feb 3
28. Camilla Mattiuzzi, Giuseppe Lippi, Chiara Bovo. Current epidemiology of low back pain. JHMHP 2020; doi: 10.21037/jhmhp-20-17 Epub 2020 Jun
29. Kun Hyung Kim et al. Acupuncture for lumbar spinal stenosis: A systematic review and meta-analysis. Complementary therapies in medicine Epub 2013 Oct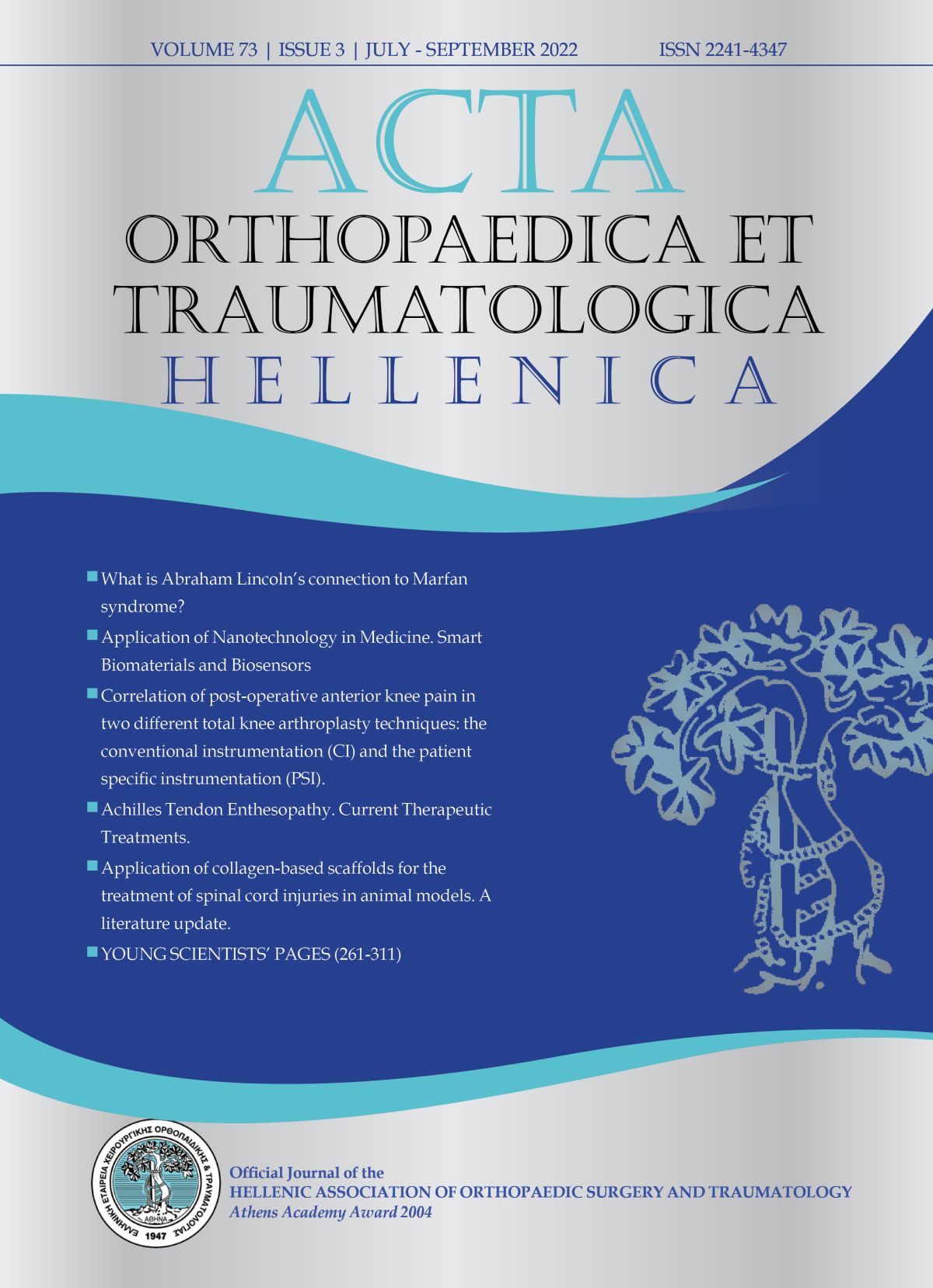 Section
Young Scientists Pages
Copyright (c) 2022 Acta Orthopaedica Et Traumatologica Hellenica
This work is licensed under a Creative Commons Attribution-NonCommercial 4.0 International License.