The effect of a pharmaceutical per os supplement based on methylsulfonylmethane, hydrolyzed collagen, bromelain, D-glucosamine, chondroitin sulfate, L-arginine, L-lysine, plant extracts of boswellia, myrr and turmeric, and Vitamin C on Achilles tendinopat
AI Triantafyllopoulou

S Karampitianis

A Galanos

DG Economopoulos

IK Triantafyllopoulos
Keywords:
Food supplements, Achilles tendinitis, Achilles tendinopathy
Abstract
This is a prospective clinical study in order to evaluate the effect of nutraceutical treatment of Achilles tendinitis. Recreational and professional athletes with acute Achilles tendinitis were recruited and divided into a Treatment (n=8) and a Control (n=8) group. Treatment group received food supplement based on Methylsulfonilmethane (MSM), Collagen, Arginine, Lysine, Vitamin C, Glucosamine and Chondroitin sulfate, Boswellia, Curcumin (turmeric acid) and Myrrh for a month. Subjective (VAS score) and objective (VISA-A and Ankle-Hindfoot scales) were evaluated. The Treatment group demonstrated statistically significant pain relief (VAS) at 1st month and better functional outcomes (VISA-A) compared to Control group. It seems that administration of nutraceuticals additional to any other conservative or surgical intervention enhance the final outcome in Achilles tendon pathologies.   
Downloads
Download data is not yet available.
References
1. Longo UG, Ronga M, Maffulli N. Achilles Tendinopathy. Sports Med Arthrosc Rev. 2018 Mar; 26(1):16-30.
2. Weinfeld SB. Achilles tendon disorders. Med Clin North Am 2014 Mar; 98(2):331-8.
3. Types and epidemiology of tendinopathy. Maffulli N, Wong J, Almekinders LC. Clin Sports Med 2003 Oct; 22(4):675-92.
4. Madhi M, Yausep OM, Khamdan K, Trigkilidas D. The use of PRP in treatment of Achilles Tendinopathy: A systematic review of literature. Annals of Medicine and Surgery 2020 Jul; 55:320-32
5. Liu CJ, Yu KL, Bai JB, et al. Platelet-rich plasma injection for the treatment of chronic Achilles tendinopathy: A meta-analysis. Medicine (Baltimore) 2019 Apr; 98(16):e15278
6. Gervasi M, Barbieri E, Capparucci I, et al. Treatment of Achilles Tendinopathy in Recreational Runners with Peritendinous Hyaluronic Acid Injections: A Viscoelastometric, Functional, and Biochemical Pilot Study J. Clin. Med. 2021, 10(7): 1397.
7. Vahdatpour B, Forouzan H, Momeni F, et al. Effectiveness of extracorporeal shockwave therapy for chronic Achilles tendinopathy: A randomized clinical trial. J Res Med Sci 2018 Apr 26; 23:37.
8. Magnussen RA, Dunn WR, Thomson AB. Nonoperative Treatment of Midportion Achilles Tendinopathy: A Systematic Review. Clinical Journal of Sport Medicine 2009 Jan; 19(1):54-64.
9. Notarnicola A, Pesce V, Vicenti G, et al. SWAAT study: extracorporeal shock wave therapy and arginine supplementation and other nutraceuticals for insertional Achilles tendinopathy. Adv Ther 2012 Sep; 29(9):799-814.
10. Murphy M, Rio E, Debenham J, et al. Evaluating the progress of mid-portion Achilles tendinopathy during rehabilitation for self-reported pain and function. Int J Sports Phys Ther 2018 Apr; 13(2): 283–292.
11. Robinson JM, Cook JL, Purdam C, et al. The VISA-A questionnaire: a valid and reliable index of the clinical severity of Achilles tendinopathy. Br J Sports Med 2001 Oct; 35(5):335-41.
12. Iversen JV, Bartels EM, Langberg H. The Victorian Institute of Sports Assessment – Achilles Questionnaire (VISA-A) – A reliable tool for measuring Achilles tendinopathy. Int J Sports Phys Ther 2012 Feb; 7(1): 76–84.
13. Klatte-Schulz F, Minkwitz S, Schmock A, et al. Different Achilles Tendon Pathologies Show Distinct Histological and Molecular Characteristics Int J Mol Sci 2018 Feb; 19(2): 404.
14. Fusini F, Bisicchia S, Bottegoni C, et al. Nutraceutical supplement in the management of tendinopathies: a systematic review. Muscles Ligaments Tendons J 2016 Jan-Mar; 6(1): 48–57.
15. Sundqvist H, Forsskåhl B, Kvist M. A promising novel therapy for Achilles peritendinitis: double-blind comparison of glycosaminoglycan polysulfate and high-dose indomethacin. Int J Sports Med 1987 Aug; 8(4):298-303.
16. [Arquer A, García M, Laucirica JA, et al. Eficacia y seguridad de un tratamiento oral a base de mucopolisacáridos, colágeno tipo i y vitamina C en pacientes con tendinopatías. Apunts Medicina de l'Esport 2014; 49(182):31–36]
17. Merolla G, Dellabiancia F, Ingardia A, et al. Co-analgesic therapy for arthroscopic supraspinatus tendon repair pain using a dietary supplement containing Boswellia serrata and Curcuma longa: a prospective randomized placebo-controlled study. Musculoskelet Surg 2015 Sep; 99 Suppl 1:S43-52.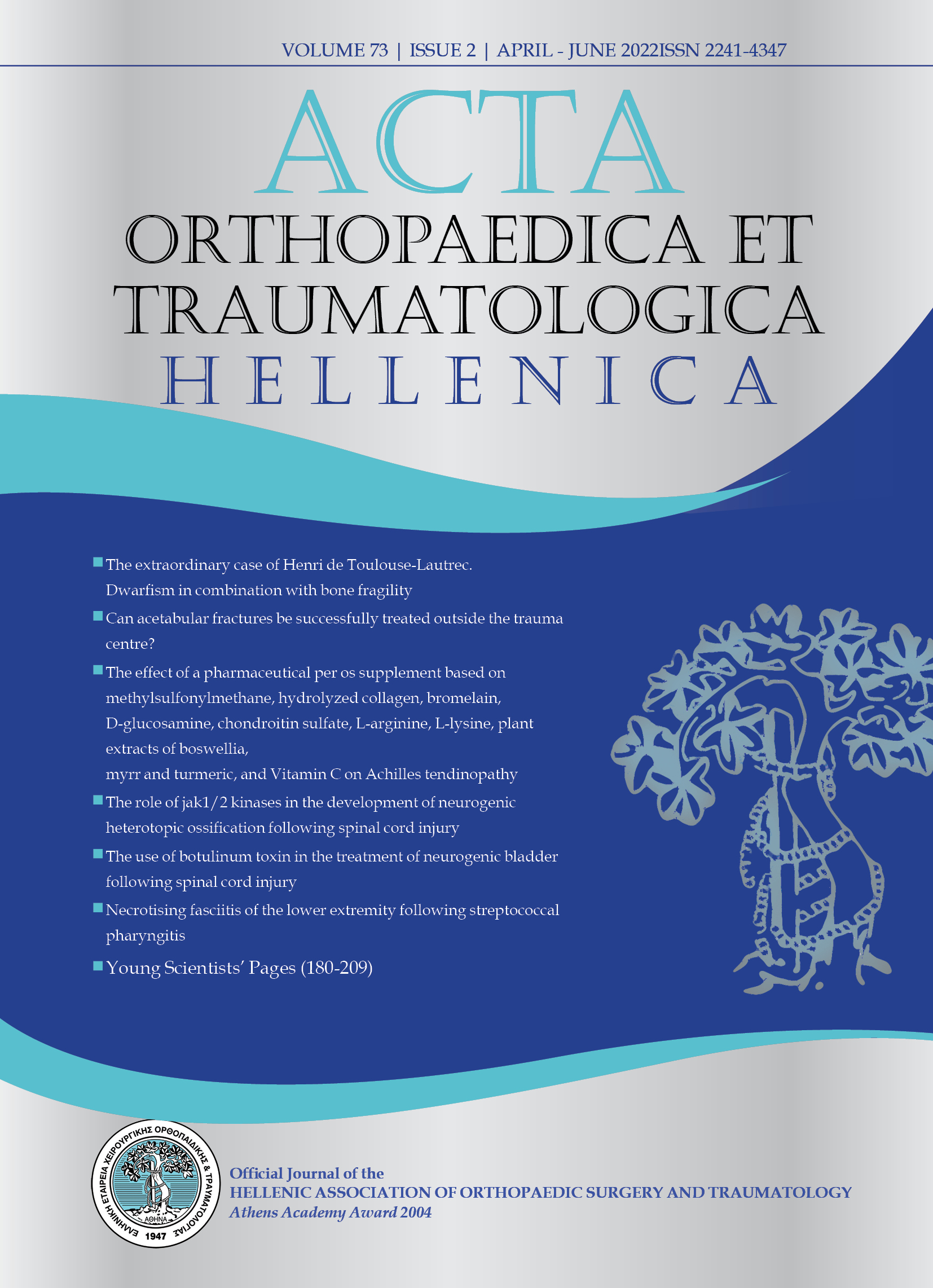 Copyright (c) 2022 Acta Orthopaedica Et Traumatologica Hellenica
This work is licensed under a Creative Commons Attribution-NonCommercial 4.0 International License.