Management of neurogenic bowel dysfunction in patients with spinal cord injury
Keywords:
SCI, Neurogenic Bowel, Management
Abstract
The number of individuals vulnerable to bowel and bladder dysfunction is ever-increasing. Spinal cord injury (SCI), both traumatic and non-traumatic, has an estimated prevalence of over 2.5 million worldwide.  Learning how to manage patients who exhibit such pathology is of the essence in order to ameliorate the patient's quality of life. This review strives to present the most important aspects of the management process. It is very important to examine all the aspects of the management process in order to have a more holistic view of the patient's needs. The key to a successful treatment is communication. By enhancing and supporting the exchange of information between doctors, care-givers, nurses and patients the management process is rendered easier for all parts involved.
Downloads
Download data is not yet available.
References
1. Emmanuel A. Neurogenic bowel dysfunction [version 1; peer review: 2 approved]. F1000Research 2019, 8(F1000 Faculty Rev):1800
2. PUTZ, Cornelia, et al. 3T MR-defecography—A feasibility study in sensorimotor complete spinal cord injured patients with neurogenic bowel dysfunction. European journal of radiology, 2017, 91: 15-21.
3. ADRIAANSEN, Jacinthe J., et al. Outcomes of neurogenic bowel management in individuals living with a spinal cord injury for at least 10 years. Archives of Physical Medicine and Rehabilitation, 2015, 96.5: 905-912.
4. STIENS, Steven A.; BERGMAN, Susan Biener; GOETZ, Lance L. Neurogenic bowel dysfunction after spinal cord injury: clinical evaluation and rehabilitative management. Archives of physical medicine and rehabilitation, 1997, 78.3: S86-S102.
5. Krogh K, Nielsen J, Djurhuus JC, et al. : Colorectal function in patients with spinal cord lesions. Dis Colon Rectum. 1997;40(10):1233–9. 10.1007/bf02055170
6. Emmanuel A: Managing neurogenic bowel dysfunction. Clin Rehabil. 2010;24(6):483–8. 10.1177/0269215509353253
7. DEL POPOLO, G., et al. Treatment of neurogenic bowel dysfunction using transanal irrigation: a multicenter Italian study. Spinal Cord, 2008, 46.7: 517-522.
8. CHU, David I., et al. Experience with glycerin for antegrade continence enema in patients with neurogenic bowel. The Journal of urology, 2013, 189.2: 690-693.
9. STAVROU, V.; ZIKA, J.; PLOUMIS, A. Nursing rehabilitation of patients with spin and spinal cord injuries. Interscientific Health Care, 2012, 4.2.
10. KRAUSE, James S., et al. A prospective study of health and risk of mortality after spinal cord injury. Archives of physical medicine and rehabilitation, 2008, 89.8: 1482-1491.
11. KRAUSE, James S.; SAUNDERS, Lee L. Health, secondary conditions, and life expectancy after spinal cord injury. Archives of physical medicine and rehabilitation, 2011, 92.11: 1770-1775.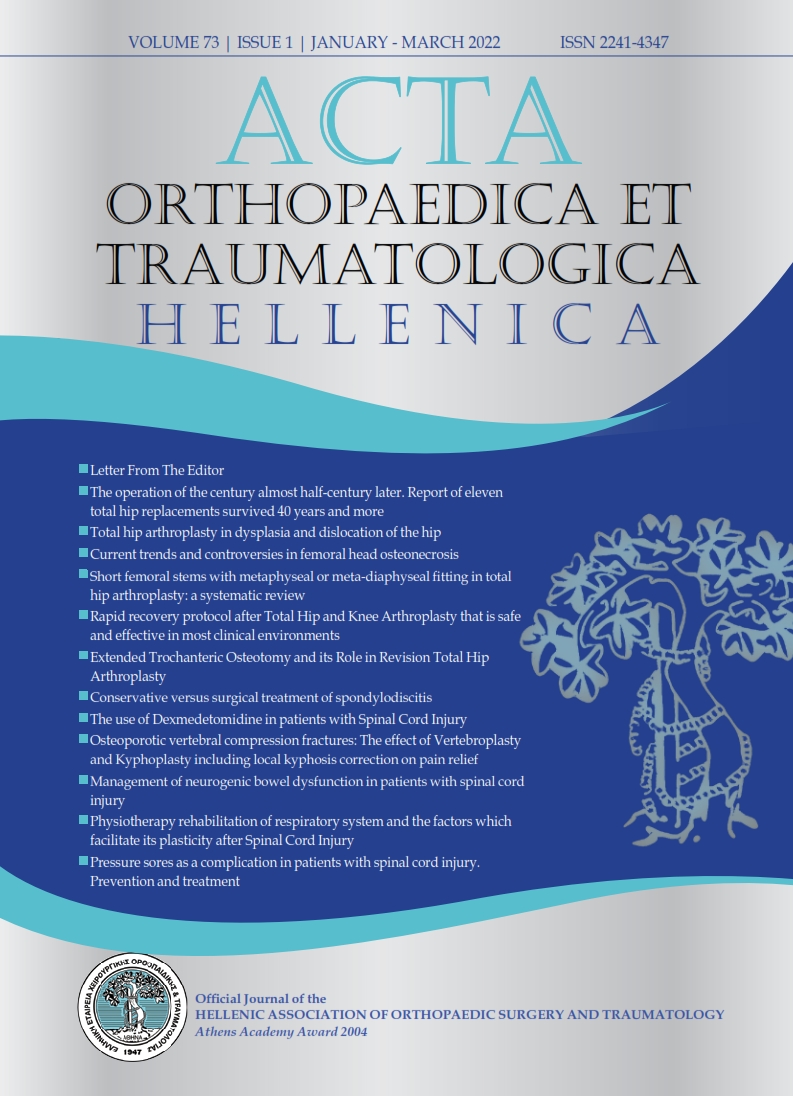 Section
Young Scientists Pages
Copyright (c) 2022 Acta Orthopaedica Et Traumatologica Hellenica
This work is licensed under a Creative Commons Attribution-NonCommercial 4.0 International License.