Extended Trochanteric Osteotomy and its Role in Revision Total Hip Arthroplasty
Theofilos Karachalios

George A. Komnos

Antonios Koutalos

Socrates Varitimidis

Konstantinos N. Malizos
Keywords:
Extended trochanteric osteotomy, Total hip arthroplasty, Revision hip arthroplasty
Abstract
Extended trochanteric osteotomy represents a reliable surgical technique for component extraction of the femur and the management of bone defects, with low failure rates and satisfactory functional outcomes. It is a highly effective procedure that was initially established for the management of large bone defects of the femur (Paprosky III-A and III-B) and for long stem removal. Nowadays, utilization of this technique is closely related to the implantation of long stems.Nevertheless, research studies with longer follow up are required to establish its effectiveness.
Downloads
Download data is not yet available.
References
1. Della Valle CJ, Paprosky WG. The femur in revision total hip arthroplasty evaluation and classification. Clin Οrthop 2004; 420:55-62.
2. Paprosky WG, Sporer SM. Controlled femoral fracture: easy in. J Arthroplasty 2003; 18(3 S1):91-93.
3. Paprosky WG, Weeden SH, Bowling JW. Component removal in revision total hip arthroplasty. Clin Orthop 2001; 393:181-193.
4. Chen WM, McAuley JP, Engh J, Hopper J, Engh CA. Extended slide trochanteric osteotomy for revision total hip arthroplasty. J Bone Joint Surg Am 2000; 82(9):1215-1219.
5. Levine BR, della Valle CJ, Lewis P, Berger RA, Sporer SM, Paprosky W. Extended trochanteric osteotomy for the treatment of vancouver B2/B3 periprosthetic fractures of the femur. J Arthroplasty 2008; 23(4):527-533.
6. Miner TM, Momberger NG, Chong D, Paprosky WL. The extended trochanteric osteotomy in revision hip arthroplasty: A critical review of 166 cases at mean 3-year, 9-month follow-up. J Arthroplasty 2001;1 6(8 S1):188-194.
7. Petrie MJ, Harrison TP, Buckley SC, Gordon A, Kerry RM, Hamer AJ. Stay Short or Go Long? Can a Standard Cemented Femoral Prosthesis Be Used at Second-Stage Total Hip Arthroplasty Revision for Infection Following an Extended Trochanteric Osteotomy? J Arthroplasty 2017;3 2(7):2226-2230.
8. Morshed S, Huffman GR, Ries MD. Extended trochanteric osteotomy for 2-stage revision of infected total hip arthroplasty. J Arthroplasty 2005; 20(3):294-301.
9. Levine BR, della Valle CJ, Hamming M, Sporer SM, Berger RA, Paprosky WG. Use of the extended trochanteric osteotomy in treating prosthetic hip infection. J Arthroplasty 2009; 24(1):49-55.
10. Berry DJ. Treatment of Vancouver B3 periprosthetic femur fractures with a fluted tapered stem. Clin Orthop 2003; 417:224-231.
11. Della Valle CJ, Berger RA, Rosenberg AG, Jacobs JJ, Sheinkop MB, Paprosky WG. Extended trochanteric osteotomy in complex primary total hip arthroplasty. A brief note. J Bone Joint Surg Am 2003; 85(12):2385-2390.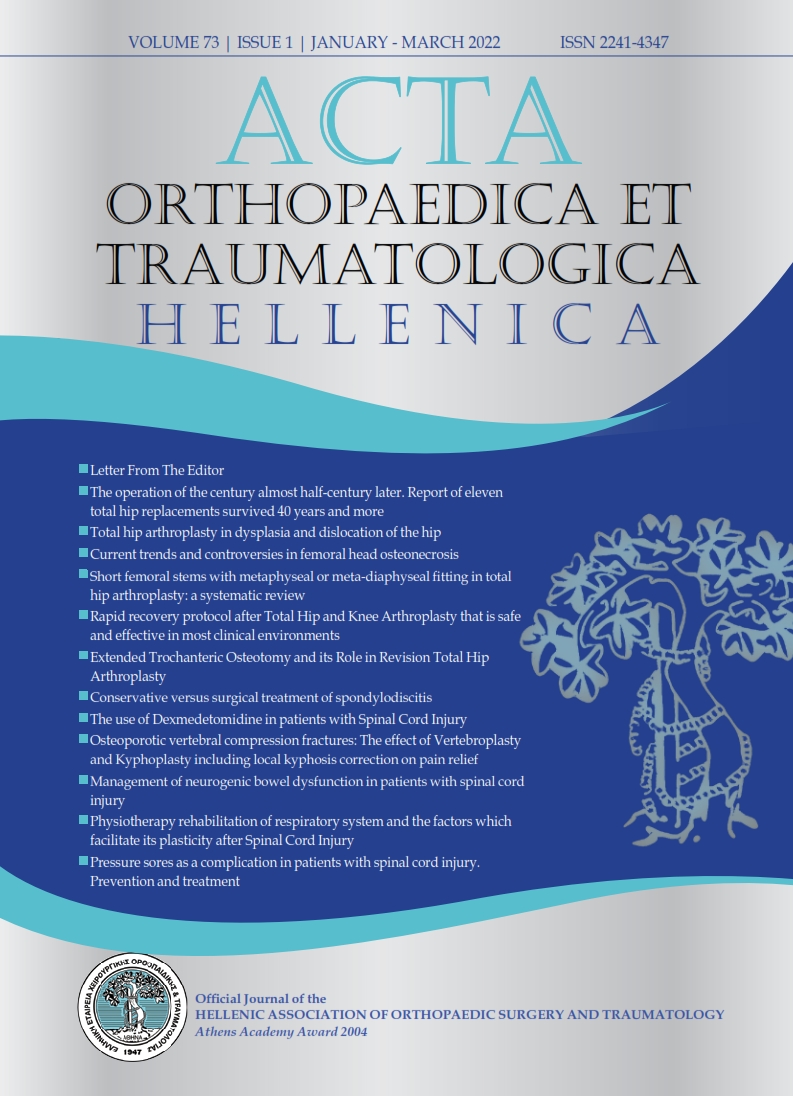 Copyright (c) 2022 Acta Orthopaedica Et Traumatologica Hellenica
This work is licensed under a Creative Commons Attribution-NonCommercial 4.0 International License.