Primary one stage reconstruction of a simultaneous bilateral distal biceps tendon rupture with bone anchors and a mini open incision
Panagiotis Kanellos

Konstantinos Tolis

Panagiotis Megalooikonomos

George Gatos

Sarantis Spyridonos
Keywords:
Distal biceps tendon, bone anchors, one stage reconstruction
Abstract
Aim: We present a rare case of bilateral distal biceps tendon rupture treated with primary bilateral one stage reconstruction by bone anchors.
Materials and Methods: A 40 years old male was presented at the outpatient clinic after sustaining a bilateral distal biceps tendon rupture, during a heavy object lift-off. Primary one stage reconstruction was performed bilaterally, with the use of mini open technique and two bone anchors.
Results: At two years postoperatively the patient has regained complete pronation-supination range of movement (ROM), while the muscle belly has adequate shape and mass bilaterally.
Conclusions: Performing a primary one stage reconstruction at bilateral distal biceps tendon ruptures minimizes complications and favors early return to former activities.
Downloads
Download data is not yet available.
References
1. Mavrogenis AF, Papagelopoulos PJ, Ignatiadis IA, et al. Anatomical repair of distal biceps brachii tendon rupture through a limited anterior approach. Eur J Orthop Surg Traumatol. 2009; 19:243–247 DOI 10.1007/s00590-009-0426-x
2. Green JB, Skaife TL, Leslie BM. Bilateral distal biceps tendon ruptures. J Hand Surg 2012;37A:120–123
3. Kelly MP, Perkinson SG, Ablove RH, et al. Distal biceps tendon ruptures: An epidemiological analysis using a large population database. The American Journal of Sports Medicine,2015; Vol. 43, No. 8. DOI: 10.1177/0363546515587738
4. O'Driscoll SW, Goncalves LBJ, Dietz P. The Hook test for distal biceps tendon avulsion. Am J Sports Med, Nov 2007; 35 (11), 1865-9. DOI: 10.1177/0363546507305016
5. Le Huec JC, Moinard M, Liquois F et al. Distal rupture of the tendon of biceps brachii: evaluation by MRI and the results of repair. J Bone Joint Surg Br, 1996; 78:767–770
6. Storti TM, Paniago AF, Faria RSS. Simultaneous bilateral distal biceps tendon repair: case report. Rev Bras Ortop (English Edition), 2017; Volume 52, Issue 1, January–February; 5 2(1):107–112. doi.org/10.1016/j.rboe.2016.12.006
7. Blønd L, Kaewkongnok B. Reconstruction of delayed diagnoses simultaneous bilateral distal biceps tendon ruptures using semtendinosus and quadriceps tendon autografts. SpringerPlus, 2015; 4:117. DOI: 10.1186/s40064-015-0897-7
8. Dacambra MP, Walker RE, Hildebrand KA. Simultaneous bilateral distal biceps tendon ruptures repaired using an endobutton technique: a case report. J Med Case Rep, 2013; 7:213, doi:10.1186/1752-1947-7-213
9. Rokito AS, Lofin I. Simultaneous bilateral distal biceps tendon rupture during a preacher curl exercise: a case report. Bull Hosp Jt Dis, 2008; 66:68–71
10. Panagopoulos A, Tatani I, Tsoumpos P, et al. Clinical outcomes and complications of cortical button distal biceps repair: A systematic review of the Literature. J Sports Med (Hindawi Publ Corp). 2016; 2016: 3498403. doi: 10.1155/2016/3498403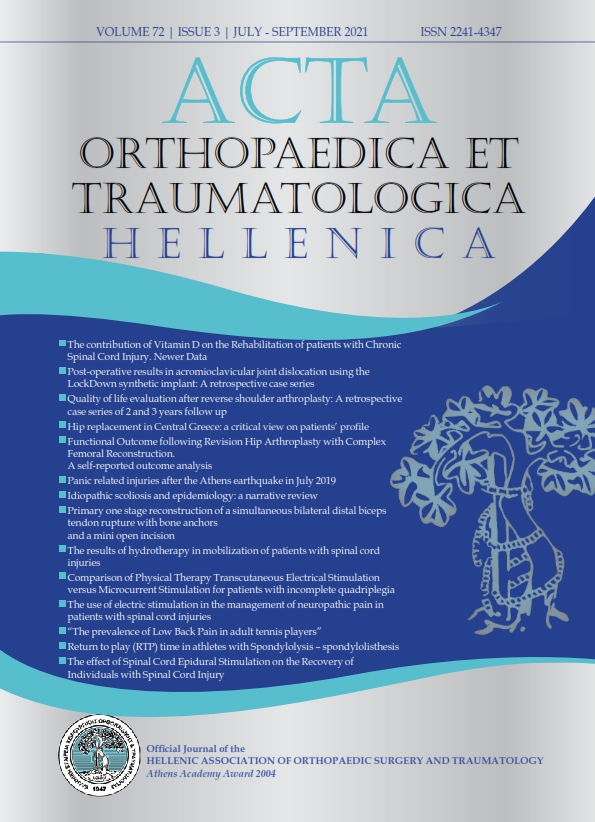 Copyright (c) 2021 Acta Orthopaedica Et Traumatologica Hellenica
This work is licensed under a Creative Commons Attribution-NonCommercial 4.0 International License.