Idiopathic scoliosis and epidemiology: a narrative review
F. Kakridonis MD

E. Pappa MD PhD

I. Papanikolaou MD MSc

I. Trantos MD

I. Chatzikomninos MD
Keywords:
Idiopathic Scoliosis, Epidemiology, Pathogenesis
Abstract
Idiopathic scoliosis is a problem that affects a great number of patients of all ages causing pain, imbalance and prohibiting the development of the angular curve. Idiopathic scoliosis causes a number of alterations in the spine that can result in cardio- respiratory failure and mobility issues. In this review, we study the latest literature publications regarding the starting age, the types of scoliosis and the pathogenesis of the disease. We also analyze the epidemiological factors of the syndrome according to the current literature.
Downloads
Download data is not yet available.
References
1. Abbott A, Möller H, Gerdhem P. CONTRAIS: CONservative TReatment for Adolescent Idiopathic Scoliosis: a randomised controlled trial protocol. BMC Musculoskelet Disord. 2013;14(1). doi:10.1186/1471-2474-14-261
2. Aydın GC, Öner A, Hekim HH, Arslan AS, Öztaş D, Akman YE. The Prevalence of Scoliosis in Adolescent Swimmers and the Effect of Swimming on Adolescent Idiopathic Scoliosis. TJSM 2020;55(x):i-vii. doi: 10.5152/tjsm.2020.176.
3. Bachmann KR, Yaszay B, Bartley CE, et al. A three-dimensional analysis of scoliosis progression in non-idiopathic scoliosis: is it similar to adolescent idiopathic scoliosis? Childs Nerv Syst. 2019;35(9):1585-1590. doi: 10.1007/s00381-019-04239-4.
4. Balagué F, Pellisé F. Adolescent idiopathic scoliosis and back pain. Scoliosis Spinal Disord. 2016;11(1):27. doi: 10.1186/s13013-016-0086-7.
5. Bettany-Saltikov J, Parent E, Romano M, Villagrasa M, Negrini S. Physiotherapeutic scoliosis-specific exercises for adolescents with idiopathic scoliosis. Eur J Phys Rehabil Med. 2014;50(1):111-121. PMID: 24525556.
6. Burwell RG, Clark EM, Dangerfield PH, Moulton A. Adolescent idiopathic scoliosis (AIS): a multifactorial cascade concept for pathogenesis and embryonic origin. Scoliosis Spinal Disord. 2016;11(1):8. doi: 10.1186/s13013-016-0063-1.
7. Carr AJ. Adolescent idiopathic scoliosis in identical twins. J Bone Joint Surg Br. 1990;72(6):1077. PMID: 2246294.
8. Cheng JC, Castelein RM, Chu WC, et al. Adolescent idiopathic scoliosis. Nat Rev Dis Primers. 2015;1:15030. doi: 10.1038/nrdp.2015.30.
9. Clark EM, Taylor HJ, Harding I, et al. Association between components of body composition and scoliosis: a prospective cohort study reporting differences identifiable before the onset of scoliosis. J Bone Miner Res. 2014;29(8):1729-1736. doi:10.1002/jbmr.2207
10. Cyr J-P, Crépin R, Blouin J-S, Simoneau M. Vestibulomotor coherence in adolescents with idiopathic scoliosis. Neurophysiol Clin. 2019;49(6):452-453. doi: 10.1016/j.neucli.2019.10.125.
11. Dorland W. Dorland's Illustrated Medical Dictionary. 32nd ed. Philadelphia PA: Elsevier Saunders; 2012:329.
12. Grauers A, Danielsson A, Karlsson M, Ohlin A, Gerdhem P. Family history and its association to curve size and treatment in 1,463 patients with idiopathic scoliosis. Eur Spine J. 2013;22(11):2421-2426. doi: 10.1007/s00586-013-2860-z.
13. Grivas TB, Vasiliadis E, Mouzakis V, Mihas C, Koufopoulos G. Association between adolescent idiopathic scoliosis prevalence and age at menarche in different geographic latitudes. Scoliosis. 2006;1(1):9. doi: 10.1186/1748-7161-1-9.
14. Illés T, Tunyogi-Csapó M, Somoskeöy S. Breakthrough in three-dimensional scoliosis diagnosis: significance of horizontal plane view and vertebra vectors. Eur Spine J. 2011;20(1):135-143. doi: 10.1007/s00586-010-1566-8.
15. Knott P, Pappo E, Cameron M, et al. SOSORT 2012 consensus paper: reducing x-ray exposure in pediatric patients with scoliosis. Scoliosis. 2014;9(1):4. doi: https://doi.org/10.1186/1748-7161-9-4.
16. Latalski M, Danielewicz-Bromberek A, Fatyga M, Latalska M, Kröber M, Zwolak P. Current insights into the aetiology of adolescent idiopathic scoliosis. Arch Orthop Trauma Surg. 2017;137(10):1327-1333. doi: https://doi.org/10.1007/s00402-017-2756-1.
17. Lenke LG, Betz RR, Haher TR, et al. Multisurgeon assessment of surgical decision-making in adolescent idiopathic scoliosis: curve classification, operative approach, and fusion levels. Spine (Phila Pa 1976). 2001;26(21):2347-2353. doi: 10.1097/00007632-200111010-00011.
18. Lenke LG, Betz RR, Harms J, et al. Adolescent idiopathic scoliosis: A new classification to determine extent of spinal arthrodesis. J Bone Joint Surg Am. 2001;83(8):1169-1181. PMID: 11507125.
19. Karavidas, N. Assessment of Adult Scoliosis. Paper presented at: 1st International Conference on Scoliosis Management (ICSM); April 12-13, 2019; Istanbul, Turkey.
20. Kesling KL, Reinker KA. Scoliosis in twins. A meta-analysis of the literature and report of six cases. Spine (Phila Pa 1976). 1997;22(17):2009-2014; discussion 2015. doi: 10.1097/00007632-199709010-00014.
21. King HA, Moe JH, Bradford DS, Winter RB. The selection of fusion levels in thoracic idiopathic scoliosis. J Bone Joint Surg Am. 1983;65(9):1302-1313. PMID: 6654943.
22. Machida M, Hasegawa A, Iizuka S, Nagoshi N, Miyake A, Fujiyoshi K ,Yagi M, Kaneko S, Takemitsu M, Shioda M, Usui H Idiopathic scoliosis. IRYO - Japanese Journal of National Medical Services. 2012; 66. 398-406.
23. McMaster MJ. Congenital scoliosis. In: Weinstein SL, ed. The pediatric spine: principles and practices. 1st ed. New York, NY: Raven Press; 1994:227–244.
24. Milner, P, Gummerson, N. Scoliosis and spinal deformity. In: Kirollos RW, Helmy A, Thomson S, Hutchinson PJA, eds. Oxford Textbook of Neurological Surgery. Oxford, UK: Oxford University Press; 2019:769-778. doi: 10.1093/med/9780198746706.001.0001.
25. Negrini S, Negrini A, Atanasio S, Santambrogio GC. Three-dimensional easy morphological (3-DEMO) classification of scoliosis, part I. Scoliosis. 2006;1(1):20. doi: 10.1186/1748-7161-1-20.
26. Papadoudis AM, Skourti KL. Etiopathogenesis of idiopathic scoliosis. J Res Pract Musculoskelet Syst. 2019;03(02):78-82. doi: 10.22540/JRPMS-03-078.
27. Poncet P, Dansereau J, Labelle H. Geometric torsion in idiopathic scoliosis: three-dimensional analysis and proposal for a new classification. Spine (Phila Pa 1976). 2001;26(20):2235-2243. doi: 10.1097/00007632-200110150-00015.
28. Qiu G, Zhang J, Wang Y, et al. A new operative classification of idiopathic scoliosis: a peking union medical college method. Spine (Phila Pa 1976). 2005;30(12):1419-1426. doi: 10.1097/01.brs.0000166531.52232.0c.
29. van Rhijn LW, Jansen EJ, Plasmans CM, Veraart BE. Curve characteristics in monozygotic twins with adolescent idiopathic scoliosis: 3 new twin pairs and a review of the literature. Acta Orthop Scand. 2001;72(6):621-625. doi: 10.1080/000164701317269058.
30. Rigo MD, Villagrasa M, Gallo D. A specific scoliosis classification correlating with brace treatment: description and reliability. Scoliosis. 2010;5(1):1. doi: 10.1186/1748-7161-5-1.
31. Roaf R. The treatment of progressive scoliosis by unilateral growth-arrest. J Bone Joint Surg Br. 1963;45(4):637-651. doi:10.1302/0301-620X.45B4.637.
32. Sangole AP, Aubin C-E, Labelle H, et al. Three-dimensional classification of thoracic scoliotic curves. Spine (Phila Pa 1976). 2009;34(1):91-99. doi: 10.1097/BRS.0b013e3181877bbb.
33. Schlösser TPC, van der Heijden GJMG, Versteeg AL, Castelein RM. How "idiopathic" is adolescent idiopathic scoliosis? A systematic review on associated abnormalities. PLoS One. 2014;9(5):e97461. doi: 10.1371/journal.pone.0097461.
34. Schreiber S, Parent EC, Moez EK, et al. The effect of Schroth exercises added to the standard of care on the quality of life and muscle endurance in adolescents with idiopathic scoliosis-an assessor and statistician blinded randomized controlled trial: "SOSORT 2015 Award Winner." Scoliosis. 2015;10(1):24. doi: 10.1186/s13013-015-0048-5.
35. Stokes IAF, Sangole AP, Aubin C-E. Classification of scoliosis deformity three-dimensional spinal shape by cluster analysis. Spine (Phila Pa 1976). 2009;34(6):584-590. doi: 10.1097/BRS.0b013e318190b914.
36. Świerkosz S, Nowak Z. Low back pain in adolescents. An assessment of the quality of life in terms of qualitative and quantitative pain variables. J Back Musculoskelet Rehabil. 2015;28(1):25-34. doi: 10.3233/bmr-140484.
37. Weiss H-R. The method of Katharina Schroth - history, principles and current development. Scoliosis. 2011;6(1):17. doi: 10.1186/1748-7161-6-17.
38. Wong C. Treatment of painful scoliosis. Ugeskr Laeger. 2019;181(15). PMID: 30990160.
39. Wynne-Davies R. Familial (idiopathic) scoliosis: A family survey. J Bone Joint Surg Br. 1968;50-B(1):24-30. PMID: 5641594.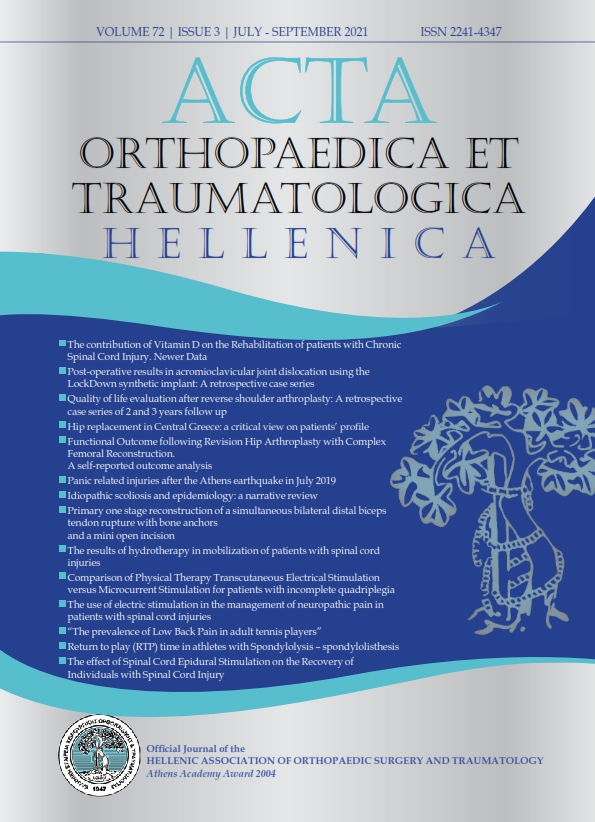 Copyright (c) 2021 Acta Orthopaedica Et Traumatologica Hellenica
This work is licensed under a Creative Commons Attribution-NonCommercial 4.0 International License.