Panic related injuries after the Athens earthquake in July 2019
Konstantinos Tsivelekas

Dimitrios Pallis

Margarita-Michaela Ampadiotaki

Georgios Gourtzelidis

Stefania Nikolaou

Stamatios A Papadakis
Keywords:
Earthquakes, Panic, Orthopaedic Trauma
Abstract
Earthquakes are devastating events. Greece is known to be one of the most active seismic regions worldwide. Recently a 5,1 Richter earthquake shook Athens, fortunately without harmful construction damages in the metropolitan area. The aim of the prospective case-series study, is to evaluate the type, pattern and severity of the injuries, as well as the type of orthopedic surgical procedures that were performed, in addition to the effect of panic on the occurrence of these injuries. The study included 18 patients with a total of 23 injuries. Thirteen fractures were reviewed. Four patients underwent surgery, where open reduction and internal fixation applied in 2 cases, external fixation performed in 1 patient and another patient submitted to tibial intramedullary nail fixation. Six patients (33,3%) were <40 years old. None of the injuries caused by building collapse but by the panicked patients trying to escape. We aim to highlight the effect of panic as an independent aggravating factor during natural disasters, where regardless of age can lead to very serious injuries and fractures even in cases where the buildings damage in the metropolitan area is negligible.
Downloads
Download data is not yet available.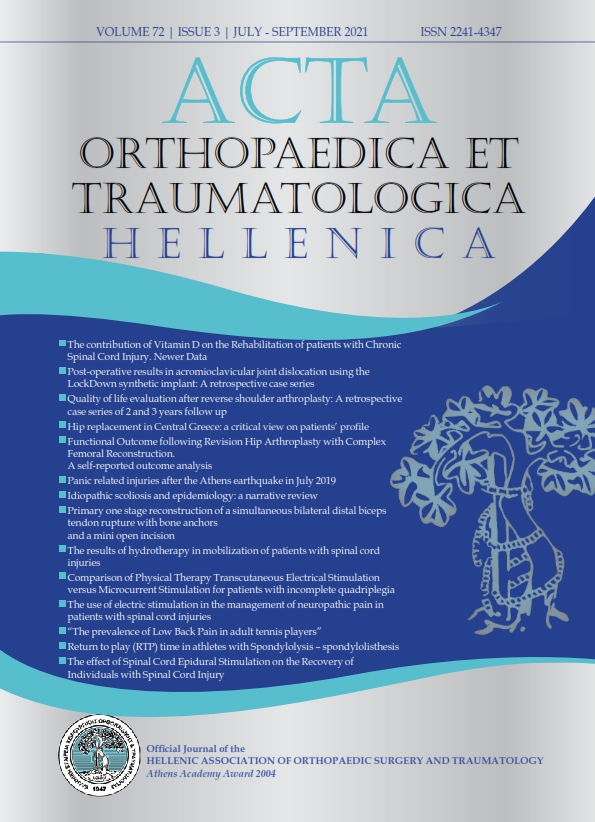 Copyright (c) 2021 Acta Orthopaedica Et Traumatologica Hellenica
This work is licensed under a Creative Commons Attribution-NonCommercial 4.0 International License.