Hip replacement in Central Greece: a critical view on patients' profile
Aggeliki Tsiligiani

Sokratis E. Varitimidis

Michael Hantes

Antonios Koutalos

Efstratios Athanaselis

Nikolaos Stefanou

Konstantinos N. Malizos
Keywords:
hip osteoarthritis, hip arthroplasty, patient profile, arthroplasty in Greece, epidemiology of osteoarthritis, epidemiology of total hip arthroplasty
Abstract
Introduction-Purpose: As elderly people tend to have an increase of percentage in the Greek population, health problems related to ageing, such as primary hip osteoarthritis will result in an increase of treatment demand of procedures like total hip arthroplasty. Identifying the key characteristics of these prospective, patients will be valuable for health professionals as well as in the design of hospital services and orthopedic clinics.
Materials and Methods: One hundred and eighty-three patients who underwent a total hip arthroplasty at the University Hospital of Larissa, Greece, were interviewed one year after their procedure. Their demographic and social characteristics were analyzed. In addition, we tried to identify associations or correlations that may be important for the general profile of a patient with primary hip osteoarthritis, in rural central Greece.
Results-Conclusions: Based on our study we conclude that for rural Greece, the common patient will be an elderly (60 to 79 y.o.) overweight (BMI>25) woman of low income and education, with strong support from the social network. Smoking and alcohol consumption do not seem to correlate with hip osteoarthritis. Forty percent of patients had not completed mandatory education. Health professionals (surgeons, nurses, therapists) should always have patient's satisfaction as a criterion for service quality evaluation and control.
Downloads
Download data is not yet available.
References
1. Mellon S., Liddle A. and Pandit H. Hip replacement: Landmark surgery in modern medical history. Maturitas.2013; 75(3), pp.221-226.
2. Birrell F, Afzal C, Nahit E, Lunt M, Macfarlane GJ, Cooper C, et al. Predictors of hip joint replacement in new attenders in primary care with hip pain. Br J Gen Pract. 2003;53(486):26–30.
3. Felson D., & Zhang Y. An update on the epidemiology of knee and hip osteoarthritis with a view to prevention. Arthritis & Rheumatism. 1998; 41(8), 1343-1355.
4. Dagenais S., Garbedian S. and Wai E. Systematic Review of the Prevalence of Radiographic Primary Hip Osteoarthritis. Clinical Orthopaedics and Related Research. 2008; 467(3), pp.623-637.
5. Krishnan E., Fries J. and Kwoh C.. Primary knee and hip arthroplasty among nonagenarians and centenarians in the United States. Arthritis & Rheumatism. 2007; 57(6), pp.1038-1042.
6. Jiang L., Rong J., Wang Y., Hu F., Bao C., Li X. and Zhao Y. The relationship between body mass index and hip osteoarthritis: A systematic review and meta-analysis. Joint Bone Spine. 2011; 78(2), pp.150-155.
7. King LK, March L, Anandacoomarasamy A. Obesity & osteoarthritis. Indian J Med Res. 2013; 138:185–93
8. Reyes C., Leyland K., Pea G., Cooper C., Arden N. and Prieto-Alhambra D. Association Between Overweight and Obesity and Risk of Clinically Diagnosed Knee, Hip, and Hand Osteoarthritis: A Population-Based Cohort Study. Arthritis & Rheumatology. 2016; 68(8), pp.1869-1875.
9. Reginster J. The prevalence and burden of arthritis. Rheumatology. 2002; 41(90001), pp.3-6.
10. Quintana J., Arostegui I., Azkarate J., Goenaga I. and Lafuente I. Prevalence of Knee and Hip Osteoarthritis and the Appropriateness of Joint Replacement in an Older Population. Archives of Internal Medicine. 2008; 168(14), p.1576.
11. Pereira D., Peleteiro B., Araújo J., Branco J., Santos R. and Ramos E. The effect of osteoarthritis definition on prevalence and incidence estimates: a systematic review. Osteoarthritis and Cartilage. 2011; 19(11), pp.1270-1285.
12. Nevitt M., Xu L., Zhang Y., Lui L., Yu W., Lane N., Qin M., Hochberg M., Cummings S. and Felson D. Very low prevalence of hip osteoarthritis among Chinese elderly in Beijing, China, compared with whites in the United States: The Beijing osteoarthritis study. Arthritis & Rheumatism. 2002; 46(7), pp.1773-1779.
13. Agabiti N., Picciotto S., Cesaroni G., Bisanti L., Forastiere F., Onorati R., Pacelli B., Pandolfi P., Russo A., Spadea T. and Perucci C. The influence of socioeconomic status on utilization and outcomes of elective total hip replacement: a multicity population-based longitudinal study. International Journal for Quality in Health Care. 2006; 19(1), pp.37-44.
14. Sturm R. The Effects of Obesity, Smoking, and Drinking on Medical Problems and Costs. Health Affairs. 2002; 21(2):245-253
15. Cooper C., Inskip H., Croft P., Campbell L., Smith G., Mclearn M., & Coggon D. Individual Risk factors for Hip Osteoarthritis: Obesity, Hip Injury and Physical Activity. American Journal Of Epidemiology. 1998; 147(6), 516-522.
16. Felson D., Anderson J., Naimark A., Hannan M., Kannel W., & Meenan R. Does smoking protect against osteoarthritis?. Arthritis & Rheumatism. 1989; 32(2), 166-172.
17. Dailiana Z., Papakostidou I., Varitimidis S., Liaropoulos L., Zintzaras E., & Karachalios T. et al.. Patient-reported quality of life after primary major joint arthroplasty: a prospective comparison of hip and knee arthroplasty. BMC Musculoskeletal Disorders. 2015; 16(1), 366.
18. Andrianakos A., Kontelis L.K., Karamitsos D.G., Aslanidis S.I., Georgountzos A.I., Kaziolas G.O. et al. Prevalence of symptomatic knee, hand, and hip osteoarthritis in Greece. The ESORDIG study. J Rheumatol. 2006; 33: 2507–2513
19. Ulucay C., Özler T., Guven M., Akman B., Kocadal A., & Altintas F. (2013). Etiology of coxarthrosis in patients with total hip replacement. Acta Orthopaedica Et Traumatologica Turcica. 2013; 47(5), 330-333.
20. Quintana J., Arostegui I., Escobar A., Azkarate J., Goenaga J. and Lafuente I. Prevalence of Knee and Hip Osteoarthritis and the Appropriateness of Joint Replacement in an Older Population. Archives of Internal Medicine. 2008; 168(14), pp.1576 - 84.
21. Goveia V., Mendoza I., Couto B., Ferreira J., Paiva E., Guimarães G. and Stoianoff, M. Profile of hip arthroplasty patients in a teaching hospital. Revista do Colégio Brasileiro de Cirurgiões. 2015; 42(2), pp.106-110.
22. Marks R. and Allegrante J. Body mass indices in patients with disabling hip osteoarthritis. Arthritis Research. 2002; 4(2), pp.112–116.
23. Franklin J., Ingvarsson T., Englund M. and Lohmander L. (2009). Sex differences in the association between body mass index and total hip or knee joint replacement resulting from osteoarthritis. Annals of the Rheumatic Diseases. 2009; 68(4), pp.536-540.
24. Turkiewicz A., Petersson I., Björk, J., Hawker G., Dahlberg L., Lohmander L. and Englund M. Current and future impact of osteoarthritis on health care: a population-based study with projections to year 2032. Osteoarthritis and Cartilage. 2014; 22(11), pp.1826-1832.
25. Hush J., Cameron K. and Mackey M. Patient Satisfaction With Musculoskeletal Physical Therapy Care: A Systematic Review. Physical Therapy. 2011; 91(1), pp.25-36.
26. Donabedian A. Evaluating the Quality of Medical Care. Milbank Quarterly. 2005; 83(4), pp.691-729.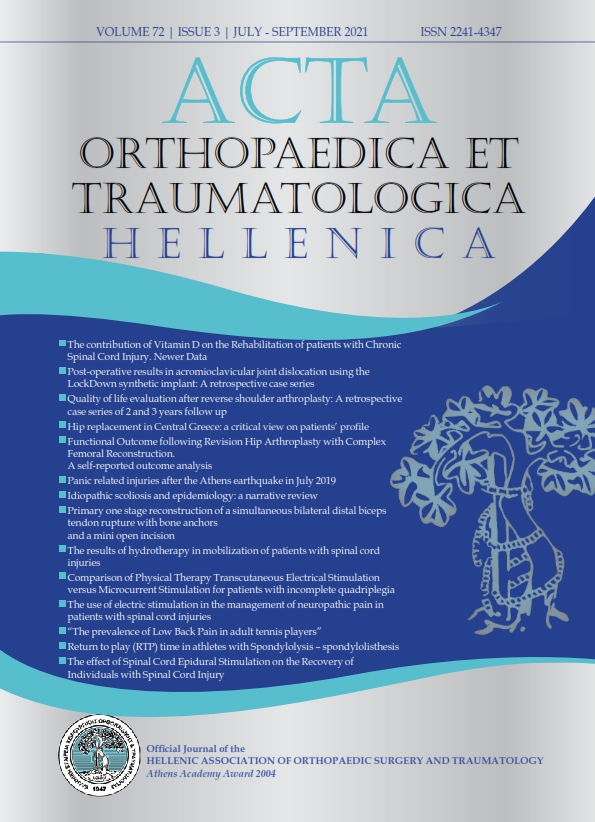 Copyright (c) 2021 Acta Orthopaedica Et Traumatologica Hellenica
This work is licensed under a Creative Commons Attribution-NonCommercial 4.0 International License.