Quality of life evaluation after reverse shoulder arthroplasty: A retrospective case series of 2 and 3 years follow up
Georgios Saraglis

Georgios Mamarelis

Dimitrios Karadaglis
Keywords:
Reverse shoulder arthroplasty, Quality of life, Case series, Rotator cuff arthropathy, shoulder arthritis, joint replacement;
Abstract
Background: The reverse shoulder arthroplasty (RSA) has revolutionized the modern reconstructive shoulder surgery. Initially recommended for rotator cuff arthropathy, its indications have been expanded to massive cuff tears, rheumatoid arthritis and fracture care. The aim of this study was, to evaluate the clinical and radiological results after a reverse shoulder arthroplasty and to assess the impact on quality of life.
Materials and Methods: Retrospective case series evaluating 37 patients undergoing reverse shoulder arthroplasty with at least two years of clinical follow up assessment. The clinical assessment was performed before and after the operation using the Oxford shoulder score, the Visual Analogue Pain score and the Constant-Murley score. Types of complications such as infection and dislocation as well as radiographic appearance of notching were also recorded.
Results: The patients who underwent a reverse shoulder arthroplasty, improved from 15.43±1.864 to 36.08±1.963, p<0.001 according to the Oxford shoulder score in their 2year post-operative appointment. According to the Constant Murley score, patients also improved significantly from 24.97±2.303 to 46.65±1.874, p<0.001.The pain was reduced from 8.43±0.26 to 1.99±2.55, p<0.001.
Conclusion: Patients who underwent a reverse shoulder arthroplasty had a significant improvement in their quality of life, indicating that reverse shoulder arthroplasty improves the range of movement and reduces the amount of pain in the affected shoulder. From our case series, the expanded indications for its use are totally justified, making reverse shoulder arthroplasty a valuable tool in modern orthopaedic practice.
Downloads
Download data is not yet available.
References
1. Grammont, P.M., Baulot, E. Delta shoulder prosthesis for rotator cuff rupture.Orthopaedics. 1993; 16:65-68.
2. Baulot E., Chabernaud D., Grammont P.M. Results of Grammont's inverted prosthesis in osteoarthritis associated with major cuff destruction.Apropos of 16 cases. Acta Ortho Belg. 1995;61:112-119.
3. Young S.W., Zhu M., Walker C.G., Poon P.C. Comparison of functional outcomes of reverse shoulder arthroplasty with those of hemiarthroplasty in the treatment of cuff-tear arthropathy: a matched-pair analysis. J Bone Joint Surg Am. 2013;95(10):910–915.
4. Amaral M.V.G., Faria J.L.R., Siqueira G., Cohen M., Brandão B., Moraes R. Artroplastia reversa do ombro no tratamento da artropatia do manguito rotador. Rev Bras Ortop. 2014;49(3):279–285.
5. Kelly J.D., 2nd, Zhao J.X., Hobgood E.R., Norris T.R. Clinical results of revision shoulder arthroplasty using the reverse prosthesis. J Shoulder Elbow Surg. 2012;21(11):1516–1525.
6. Valenti P., Kilinc A.S., Sauzières P., Katz D. Results of 30 reverse shoulder prostheses for revision of failed hemi- or total shoulder arthroplasty. Eur J Orthop Surg Traumatol. 2014;24(8):1375–1382.
7. Ferrel J.R., Trinh T.Q., Fischer R.A. Reverse total shoulder arthroplasty versus hemiarthroplasty for proximal humerus fractures: a systematic review. J Orthop Trauma. 2015;29(1):60–68.
8. Ross M., Hope B., Stokes A., Peters S.E., McLeod I., Duke P.F. Reverse shoulder arthroplasty for the treatment of three-part and four-part proximal humeral fractures in the elderly. J Shoulder Elbow Surg. 2015;24(2):215–222.
9. Gupta A.K., Harris J.D., Erickson B.J., Abrams G.D., Bruce B., McCormick F. Surgical management of complex proximal humerus fractures – a systematic review of 92 studies including 4500 patients. J Orthop Trauma. 2015;29(1):54–59.
10. Boileau P., Watkinson D.J., Hatzidakis A.M., Balg F. Grammont reverse prosthesis: design, rationale, and biomechanics. J Shoulder Elbow Surg. 2005;14(1 Suppl. S):147S–161S.
11. Gee E.C.A., Hanson E.K., Saithna A. Reverse shoulder arthroplasty in rheumatoid arthritis: a systematic review. Open Orthop J. 2015;9:237–245.
12. Arnaldo Amado Ferreira Neto, Eduardo Angeli Malavolta,.,Reverse shoulder arthroplasty:clinical results and quality of life evaluation.Rev Bras Ortop. 2017 May-Jun; 52(3): 298–302.
13. Wiater J.M., Moravek J.E., Jr., Budge M.D., Koueiter D.M., Marcantonio D., Wiater B.P. Clinical and radiographic results of cementless reverse total shoulder arthroplasty: a comparative study with 2 to 5 years of follow-up. J Shoulder Elbow Surg. 2014;23(8):1208–1214.
14. Al-Hadithy N., Domos P., Sewell M.D., Pandit R. Reverse shoulder arthroplasty in 41 patients with cuff tear arthropathy with a mean follow-up period of 5 years. J Shoulder Elbow Surg. 2014;23(11):1662–1668.
15. Fávaro R.C., Abdulahad M., Filho S.M., Valerio R., Superti M.J. Artropatia de manguito: o que esperar do resultado funcional da artroplastia reversa? Rev Bras Ortop. 2015;50(5):523–529.
16. Stanbury S, Voloshin I.Reverse shoulder arthroplasty for acute proximal humeral fractures in the geriatric patient. Geriatr Orthop Surg Rehabil. 2011 Sep-Nov; 2(5-6): 181-186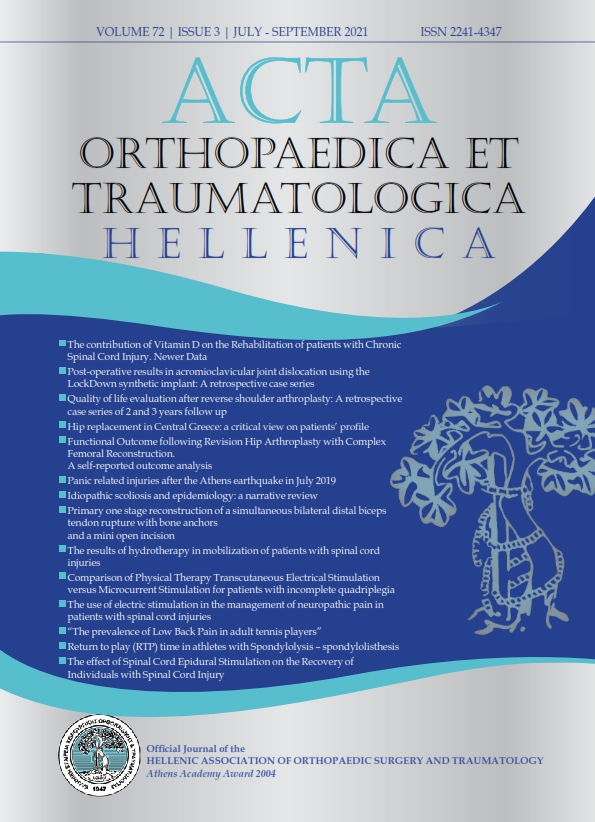 Copyright (c) 2021 Acta Orthopaedica Et Traumatologica Hellenica
This work is licensed under a Creative Commons Attribution-NonCommercial 4.0 International License.