Painful Intervertebral Disc: Cell Therapies
Trantos IA

Vlamis J

Evangelopoulos ME

Pneumaticos S
Keywords:
Low Back Pain, Intervertebral Disc Degeneration, Cell- and Tissue-Based Therapy, Stem Cells, Chondrocytes
Abstract
Intervertebral disc-related low back pain is a common helath issue, responsible for disability for numerous patients world-wide. Disc degeneration is a process with an almost universal development at advancing age and is connected not only with low back pain, but also with disc herniation and neurological deficits. Conservative treatment for discogenic low back pain is mainly symptomatic, often has short effect and/or is inadequate for a subgroup of patients. Surgical treatment is does not address the biology of disc degeneration, is connected with morbidity and may hasten adjacent level disc degeneration. Among the biological treatments being investigated, aiming to hault or even reverse the degeneration process, cell therapy has attracted rising interest recently, including the administration of both autologous and allogenic stem cells and chondrocytes. In this study, it is attempted to review the recent literature concerning application of cell treatment to patients suffering from discogenic low-back pain and highlight certain promising results, as well as future obstacles for further clinical trials and possible clinical application of cell therapy. Twelve clinical trials and case reports have been included, all published since 2006.
Downloads
Download data is not yet available.
References
1. Oehme D, Goldschlager T, Ghosh P, et al. Cell-Based Therapies Used to Treat Lumbar Degenerative Disc Disease: A Systematic Review of Animal Studies and Human Clinical Trials. Stem Cells Int. 2015; doi: 10.1155/2015/946031. Epub 2015 May 14.
2. Lafian AM, Torralba KD, Lumbar Spinal Stenosis in Older Adults. Rheum Dis Clin North Am. 2018 Aug;44(3):501-512.
3. Wong E, Altaf F, Oh LJ, et al. Adult Degenerative Lumbar Scoliosis. Orthopedics 2017 Nov 1;40(6):e930-e939.
4. Teraguchi M, Yoshimura N, Hashizume H, et al. Progression, incidence, and risk factors for intervertebral disc degeneration in a longitudinal population-based cohort: the Wakayama Spine Study. Osteoarthritis Cartilage 2017 Jul; 25(7):1122-1131
5. Raj PP, Intervertebral Disc: Anatomy-Physiology-Pathophysiology-Treatment. Pain Pract. Jan-Feb 2008; 8(1):18-44.
6. Eyre DR, Muir H. Quantitative analysis of types I and II collagens in the human intervertebral disc at various ages. Biochimica Biophysica Acta. 1977; 492:29–42.
7. Vergroesen PP, Kingma I, Emanuel KS et al. Mechanics and biology in intervertebral disc degeneration: a vicious cycle. Osteoarthritis Cartilage 2015 Jul; 23(7):1057-70.
8. Pettine K, Suzuki R, Sand T et al. Autologous bone marrow concentrate intradiscal injection for the treatment of degenerative disc disease with three-year follow-up. Int Orthop 2017 Oct; 41(10):2097-2103.
9. Richardson SM, Doyle P, Minogue BM, et al. Increased expression of matrix metalloproteinase-10, nerve growth factor and substance P in the painful degenerate intervertebral disc. Arthritis Res Ther 2009;11(4):R126. doi: 10.1186/ar2793. Epub 2009 Aug 20.
10. Purmessur D, Walter BA, Roughley PJ, et al. A role for TNFa in intervertebral disc degeneration: a non-recoverable catabolic shift. Biochem Biophys Res Commun 2013 Mar 29;433(1):151-6.
11. Le Maitre CL, Freemont AJ, Hoyland JA. The role of interleukin-1 in the pathogenesis of human intervertebral disc degeneration. Arthritis Res Ther 2005;7(4):R732-45. doi: 10.1186/ar1732. Epub 2005 Apr 1
12. Johnson WE, Caterson B, Eisenstein SM, et al. Human intervertebral disc aggrecan inhibits nerve growth in vitro. Arthritis Rheum 2002 Oct; 46(10):2658-64.
13. Yoshihara H, Yoneoka D. National trends in the surgical treatment for lumbar degenerative disc disease: United States, 2000 to 2009. Spine J 2015 Feb 1; 15(2):265-71.
14. Meisel HJ, Agarwal N, Hsieh PC et al. Cell Therapy for Treatment of Intervertebral Disc Degeneration: A Systematic Review. Global Spine J 2019 May; 9(1 Suppl):39S-52S.
15. Brox JI, Sorensen R, Friis A, et al. Randomized clinical trial of lumbar instrumented fusion and cognitive intervention and exercises in patients with chronic low back pain and disc degeneration. Spine (Phila Pa 1976) 2003 Sep 1; 28(17):1913-21
16. Brox JI, Reikera˚s O, Nygaard Ø, et al. Lumbar instrumented fusion compared with cognitive intervention and exercises in patients with chronic back pain after previous surgery for disc herniation: a prospective randomized controlled study. Pain 2006 May; 122(1-2):145-55.
17. Errico TJ, Gatchel RJ, Schofferman J, et al. A fair and balanced view of spine fusion surgery. Spine J Sep-Oct 2004; 4(5 Suppl):S129-38.
18. Kwon B, Katz JN, Kim DH, et al. A review of the 2001 Volvo Award winner in clinical studies: lumbar fusion versus nonsurgical treatment for chronic low back pain: a multicenter randomized controlled trial from the Swedish lumbar spine study group. Spine (Phila Pa 1976). 2006 Jan 15 ;31:245-249.
19. Schol J, Sakai D. Cell therapy for intervertebral disc herniation and degenerative disc disease: clinical trials. Int Orthop 2019 Apr; 43(4):1011-1025.
20. Sakai D, Grad S. Advancing the Cellular and Molecular Therapy for Intervertebral Disc Disease. Adv Drug Deliv Rev 2015 Apr; 84:159-7
21. Watanabe T, Sakai D, Yamamoto Y, et al. Human Nucleus Pulposus Cells Significantly Enhanced Biological Properties in a Coculture System With Direct Cell-To-Cell Contact With Autologous Mesenchymal Stem Cells. J Orthop Res 2010 May; 28(5):623-30.
22. Tanaka M, Sakai D, Hiyama A, et al. Effect of Cryopreservation on Canine and Human Activated Nucleus Pulposus Cells: A Feasibility Study for Cell Therapy of the Intervertebral Disc. Biores Open Access 2013 Aug;2(4):273-82.
23. Coric D, Pettine K, Sumich A, et al. Prospective Study of Disc Repair With Allogeneic Chondrocytes Presented at the 2012 Joint Spine Section Meeting. J Neurosurg Spine 2013 Jan; 18(1):85-95.
24. Hoogendoorn RJ, Lu ZF, Kroeze RJ, et al. Adipose Stem Cells for Intervertebral Disc Regeneration: Current Status and Concepts for the Future. J Cell Mol Med 2008 Dec; 12(6A):2205-16.
25. Grad S, Alini M, Sakai D, et al. Cell Therapy for Nucleus Pulposus Regeneration In: Grad S, Alini M, Eglin D, et al. Cells and Biomaterials for Intervertebral Disc Regeneration Synthesis Lectures on Tissue Engineering. Morgan & Claypool Publishers, 2010, pp 13-23
26. Richardson SM, Hoyland JA, Mobasheri R, et al. Mesenchymal Stem Cells in Regenerative Medicine: Opportunities and Challenges for Articular Cartilage and Intervertebral Disc Tissue Engineering. J Cell Physiol 2010 Jan;222(1):23-32.
27. Sakai D. Stem Cell Regeneration of the Intervertebral Disk. Orthop Clin North Am 2011 Oct;42(4):555-62, viii-ix.
28. Yang F, Leung VY, Luk KD, et al. Mesenchymal Stem Cells Arrest Intervertebral Disc Degeneration Through Chondrocytic Differentiation and Stimulation of Endogenous Cells, Mol Ther 2009 Nov; 17(11):1959-66.
29. Sakai D, Mochida J, Yamamoto Y, et al. Transplantation of Mesenchymal Stem Cells Embedded in Atelocollagen Gel to the Intervertebral Disc: A Potential Therapeutic Model for Disc Degeneration. Biomaterials 2003 Sep; 24(20):3531-41
30. Sakai D, Mochida J, Iwashina T, et al. Differentiation of Mesenchymal Stem Cells Transplanted to a Rabbit Degenerative Disc Model: Potential and Limitations for Stem Cell Therapy in Disc Regeneration. Spine (Phila Pa 1976) 2005 Nov 1; 30(21):2379-87.
31. Hiyama A, Mochida J, Iwashina T, et al. Transplantation of Mesenchymal Stem Cells in a Canine Disc Degeneration Model, J Orthop Res 2008 May; 26(5):589-600.
32. Henriksson HB, Svanvik T, Jonsson M, et al. Transplantation of Human Mesenchymal Stems Cells Into Intervertebral Discs in a Xenogeneic Porcine Model. Spine (Phila Pa 1976) 2009 Jan 15;34(2):141-8.
33. Wei A, Tao H, Chung SA, et al. The Fate of Transplanted Xenogeneic Bone Marrow-Derived Stem Cells in Rat Intervertebral Discs. J Orthop Res 2009 Mar;27(3):374-9.
34. Wang F, Shi R, Cai F, et al. Stem Cell Approaches to Intervertebral Disc Regeneration: Obstacles From the Disc Microenvironment. Stem Cells Dev 2015 Nov 1;24(21):2479-95.
35. Noriega D, Ardura F, Hernández-Ramajo R, et al. Intervertebral Disc Repair by Allogeneic Mesenchymal Bone Marrow Cells: A Randomized Controlled Trial. Transplantation 2017 Aug; 101(8):1945-1951.
36. Gullbrand SE, Malhotra NR, Schaer TP, et al. A Large Animal Model That Recapitulates the Spectrum of Human Intervertebral Disc Degeneration. Osteoarthritis Cartilage 2017 Jan;25(1):146-156.
37. Vadala G, Sowa G, Hubert M, et al. Mesenchymal Stem Cells Injection in Degenerated Intervertebral Disc: Cell Leakage May Induce Osteophyte Formation. J Tissue Eng Regen Med 2012 May; 6(5):348-55.
38. D' Este M, Eglin D, Alini M. Lessons to Be Learned and Future Directions for Intervertebral Disc Biomaterials. Acta Biomater 2018 Sep 15; 78:13-22.
39. Smith LJ, Silverman L, Sakai D, et al. Advancing Cell Therapies for Intervertebral Disc Regeneration From the Lab to the Clinic: Recommendations of the ORS Spine Section. JOR Spine 2018 Dec; 1(4):e1036.
40. Yoshikawa T, Ueda Y, Miyazaki K, et al. Disc Regeneration Therapy Using Marrow Mesenchymal Cell Transplantation: A Report of Two Case Studies.
Spine (Phila Pa 1976) 2010 May 15; 35(11):E475-80.
41. Orozco L, Morera C, Alberca M, et al. Intervertebral Disc Repair by Autologous Mesenchymal Bone Marrow Cells: A Pilot Study. Transplantation 2011 Oct 15;92(7):822-8.
42. Centeno C, Markle J, Dodson E, et al. Treatment of Lumbar Degenerative Disc Disease-Associated Radicular Pain With Culture-Expanded Autologous Mesenchymal Stem Cells: A Pilot Study on Safety and Efficacy. J Transl Med 2017 Sep 22;15(1):197.
43. Elabd C, Centeno C, Schultz J et al. Intra-discal Injection of Autologous, Hypoxic Cultured Bone Marrow-Derived Mesenchymal Stem Cells in Five Patients With Chronic Lower Back Pain: A Long-Term Safety and Feasibility Study. J Transl Med 2016 Sep 1;14(1):253.
44. Kumar H, Ha DH, Lee EJ, et al. Safety and Tolerability of Intradiscal Implantation of Combined Autologous Adipose-Derived Mesenchymal Stem Cells and Hyaluronic Acid in Patients With Chronic Discogenic Low Back Pain: 1-year Follow-Up of a Phase I Study. Stem Cell Res Ther 2017 Nov 15; 8(1):262.
45. Haufe SM, Mork AR. Intradiscal Injection of Hematopoietic Stem Cells in an Attempt to Rejuvenate the Intervertebral Discs. Stem Cells Dev 2006 Feb; 15(1):136-7.
46. Meisel HJ, Ganey T, Hutton WC, et al. Clinical Experience in Cell-Based Therapeutics: Intervention and Outcome. Eur Spine J 2006 Aug; 15 Suppl 3(Suppl 3):S397-405.
47. Meisel HJ, Siodla V, Ganey T, et al. Clinical Experience in Cell-Based Therapeutics: Disc Chondrocyte Transplantation A Treatment for Degenerated or Damaged Intervertebral Disc. Biomol Eng 2007 Feb; 24(1):5-21.
48. Tschugg A, Diepers M, Simone S, et al. A Prospective Randomized Multicenter Phase I/II Clinical Trial to Evaluate Safety and Efficacy of NOVOCART Disk Plus Autologous Disk Chondrocyte Transplantation in the Treatment of Nucleotomized and Degenerative Lumbar Disks to Avoid Secondary Disease: Safety Results of Phase I-a Short Report. Neurosurg Rev 2017 Jan; 40(1):155-162.
49. Comella K, Silbert R, Parlo M. Effects of the Intradiscal Implantation of Stromal Vascular Fraction Plus Platelet Rich Plasma in Patients With Degenerative Disc Disease. J Transl Med 2017 Jan 13; 15(1):12.
50. Sakai D, Andersson GB. Stem Cell Therapy for Intervertebral Disc Regeneration: Obstacles and Solutions. Nat Rev Rheumatol 2015 Apr; 11(4):243-56.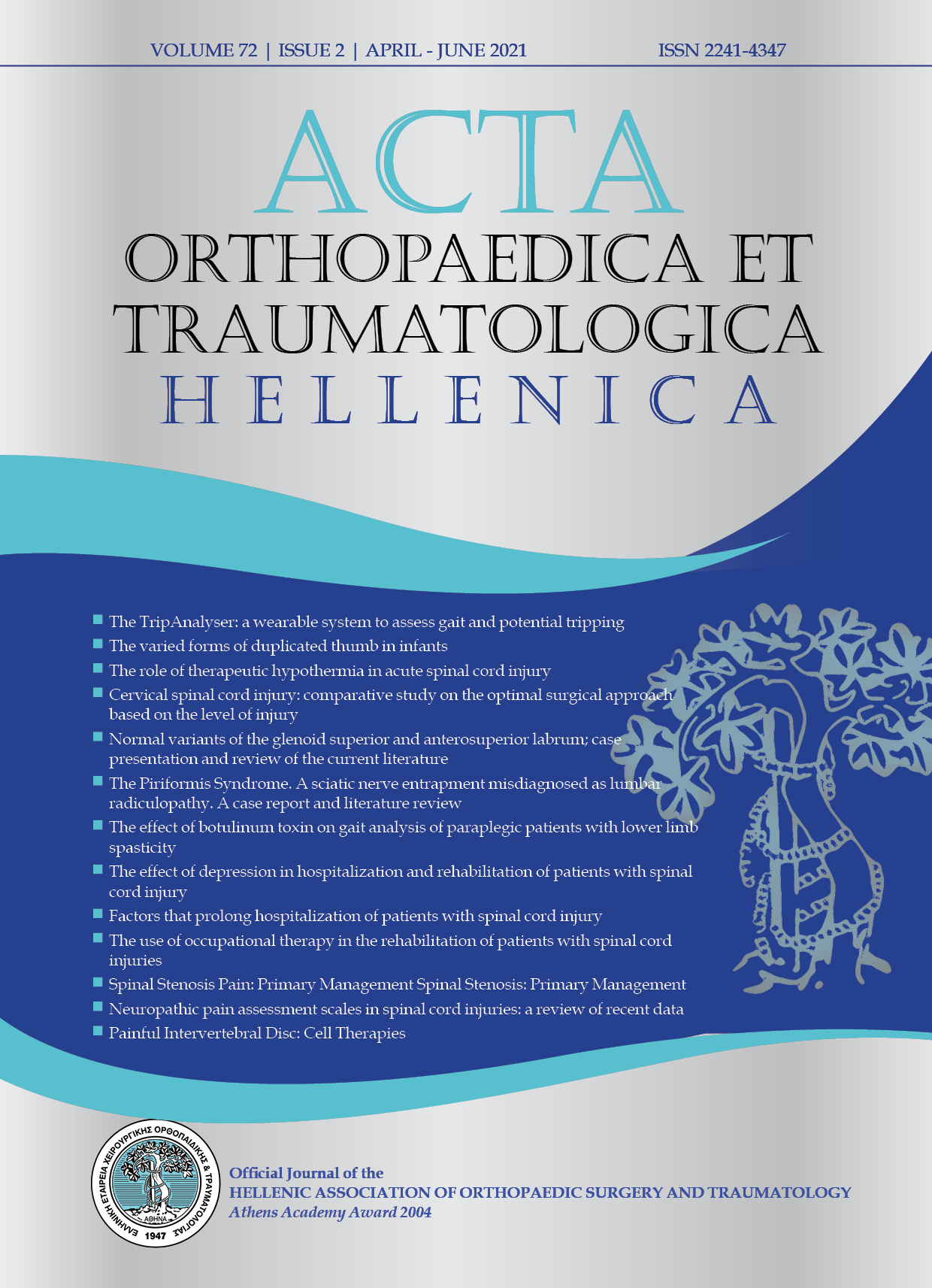 Section
Young Scientists Pages
Copyright (c) 2021 Acta Orthopaedica Et Traumatologica Hellenica
This work is licensed under a Creative Commons Attribution-NonCommercial 4.0 International License.