Cervical spinal cord injury: comparative study on the optimal surgical approach based on the level of injury
Marougklianis V.

Benettos IS

Vlamis J.

Pneumatikos S.
Keywords:
Cervical spine injuries, Fusion, Instrumentation, Spinal cord injury, Rehabilitation
Abstract
Anterior and posterior surgical approaches are used for immobilization of the unstable features of the cervical spine. The choice for optimal approach is still under discussion. Each procedure has advantages and disadvantages and the surgeon must be aware to make the right decision to assure patient's safety.
Intraoperative evaluation of reduction is essential to ensure satisfactory postoperative outcomes. However, immediate postoperative neurologic improvement is rare for patients with preoperative neurologic deficit and thus postoperative rehabilitation for improvement of motor and neurologic dysfunctions is imperative. Literature data report minor or severe intraoperative and postoperative complications for cervical spine surgery.
The purpose of this mini review is to provide literature data on cervical spinal cord injuries and assess optimal surgical treatment based on cervical injury level. Moreover, the rate of postoperative complications and recovery time will be discussed.
Downloads
Download data is not yet available.
References
1. Pui Yin Cheung J, Dip-Kei Luk K. Complication of Anterior and Posterior Cervical Spine Surgery. Asian Spine J 2016; doi: 10.4184/asj.2016.10.2.385
2. Darrel SB, Paul AA, David WN, M. Sean Grady, and Jens RC. Comparison of Anterior and Posterior Approaches in Cervical Spinal Cord Injuries. Journal of Spinal Disorders & Techniques 2003; DOI: 10.1097/00024720-200306000-00001
3. Cheng-Chih Liao MD, and Li-Rong Chen, MD. Anterior and Posterior Fixation of a Cervical Fracture Induced by Chiropractic Spinal Manipulation in Ankylosing Spondylitis: A Case Report. J Trauma 2007; DOI:10.1097/01.ta.0000246957.22573.63
4. DAVID G. PIEPGRAS, M.D. Posterior Decompression for Myelopathy Due to Cervical Spondylosis: Laminectomy Alone versus Laminectomy with Dentate Ligament Section.Clin Neurosurg. 1977; DOI: 10.1093/neurosurgery/24.cn_suppl_1.508
5. Lie Qian, Jiang Shao, Zude Liu, Liming Cheng, Zhili Zeng, Yongwei Jia, Xinfeng Li and Hantao Wang, Qian et al. Comparison of the safety and efficacy of anterior 'skip' corpectomy versus posterior decompression in the treatment of cervical spondylotic myelopathy. Journal of Orthopaedic Surgery and Research 2014; doi: 10.1186/s13018-014-0063-x
6. Kevin A. Reinard, Diana M. Cook, Hesham M. Zakaria, Azam M. Basheer, Victor W. Chang, Muwaffak M. Abdulhak. A cohort study of the morbidity of combined anterior-posterior cervical spinal fusions: incidence and predictors of postoperative dysphagia. Eur Spine J, Springer-Verlag Berlin Heidelberg 2016; doi: 10.1007/s00586-016-4429-0. Epub 2016 Mar 14
7. Hu Ren, MD, Fajing Liu, MD,w Dahai Yu, MD, Jianhui Cao, MD, Yong Shen, MD,z Ximing Li, MD, and Shuo Pan, MD. Patterns of Neurological Recovery after Anterior Decompression with Fusion and Posterior Decompression With Laminoplasty for the Treatment of Multilevel Cervical Spondylotic Myelopathy. Clin Spine Surg Volume 30, Number 8, October 2017; doi: 10.1097/BSD.0000000000000396
8. Toshitaka Yoshii, MD, PhD, Kenichiro Sakai, MD, PhD, Takashi Hirai, MD, PhD, Tsuyoshi Yamada, MD, PhD, Hiroyuki Inose, MD, PhD, Tsuyoshi Kato, MD, PhD, Mitsuhiro Enomoto, MD, PhD, Shoji Tomizawa, MD, PhD, Shigenori Kawabata, MD, PhD, Yoshiyasu Arai, MD, PhD, Atsushi Okawa, MD, PhD.Anterior decompression with fusion versus posterior decompression with fusion for massive cervical ossification of the posterior longitudinal ligament with a ≥50% canal occupying ratio: a multicenter retrospective study. The Spine Journal, 2016; doi: 10.1016/j.spinee.2016.07.532. Epub 2016 Aug 3
9. Axiang He, MD, Dong Xie, MD, Xiaomin Cai, MD, Bo Qu, MD, Qin Kong, MB, Chenhui Xu, Lili Yang, PhD, Xiongsheng Chen, PhD, Lianshun Jia. One-stage surgical treatment of cervical spine fracture-dislocation in patients with ankylosing spondylitis via the combined anterior–posterior approach. Medicine, 2017; doi: 10.1097/MD.0000000000007432
10. Wang CS, Liu MJ, Lin JH, Xu WH, Luo HB. One stage anterior-posterior approach for traumatic atlantoaxial instability combined with subaxial cervical spinal cord injury. Chin J Traumatol. 2011; PMID: 21635798
11. Robinson RA, Smith GW. Anterolateral cervical disc removal and interbody fusion for cervical disc syndrome. Bull Johns HopkinsHosp 1955:96:223–4, DOI: 10.1016/j.esas.2010.01.003
12. Abitbol JJ, Zdeblisk TA, Kunz D, et al. A biochemical analysis of modern anterior and posterior cervical stabilization techniques. ProcAm Acad Orthop Surgeons 1994;10–11, DOI: 10.1097/00007632-200101010-00005
13. Kotani Y, Cunningham BW, Abund K, et al. Biomechanical analysis of cervical stabilization systems. Spine 1994; 22:2529–39.DOI: 10.1097/00007632-199411001-00007
14. Richman JD, Daniel TE, Anderson DD, et al. Biomechanical evaluation of cervical spine stabilization methods using a porcine model. Spine1995; 20:2192–7.DOI: 10.1097/00007632-199510001-00003
15. Traynelis VC, Donaher PA, Roach RM, et al. Biomechanical comparison of anterior Caspar plate and three-level posterior fixation techniques in a human cadaveric model. J Neurosurg 1993; 79:96–103.DOI: 10.3171/jns.1993.79.1.0096
16. Anderson PA, Henley NB, Grady MS, et al. Posterior cervical arthrodesis with AO reconstruction plates and bone graft. Spine 1991; 16(suppl):72–9.DOI: 10.1097/00007632-199103001-00012
17. Hsu W, Dorsi MJ, Witham TF: Surgical management of cervical spondylotic myelopathy. Neurosurg Q 2009, 19: 302.doi: 10.1097/WNQ.0b013e3181bd5f8c
18. Hatta Y, Shiraishi T, Hase H, Yato Y, Ueda S, Mikami Y, Harada T, Ikeda T, Kubo T: Is posterior spinal cord shifting by extensive posterior decompression clinically significant for multisegmental cervical spondylotic myelopathy? Spine 2005, 30: 2414.DOI: 10.1097/01.brs.0000184751.80857.3e
19. Kimura A, Seichi A, Inoue H, Endo T, Sato M, Higashi T, Hoshino Y: Ultrasonographic quantification of spinal cord and dural pulsations during cervical laminoplasty in patients with compressive myelopathy. Eur Spine J 2012, 21:2450–2455.doi: 10.1007/s00586-012-2430-9
20. Jones J, Yoo J, Hart R: Delayed fracture of fibular strut allograft following multilevel anterior cervical spine corpectomy and fusion. Spine 2006, 31: E595–E599.DOI: 10.1097/01.brs.0000229253.17108.03
21. Dalbayrak S, Yilmaz M, Naderi S: "Skip" corpectomy in the treatment of multilevel cervical spondylotic myelopathy and ossified posterior longitudinal ligament. J Neurosurg Spine 2010, 12:33–38. doi: 10.3171/2009.7. SPINE08965
22. Liu T, Zou W, Han Y, Wang Y: Correlative study of nerve root palsy and cervical posterior decompression laminectomy and internal fixation. Orthopedics 2010, 33:10–15.doi: 10.3928/01477447-20100625-08
23. Hee HT, Majd ME, Holt RT, Whitecloud TS, Pienkowski D: Complications of multilevel cervical corpectomies and reconstruction with titanium cages and anterior plating. J Spinal Disord Tech 2003, 16:1–8.DOI: 10.1097/00024720-200302000-00001
24. Sasso RC, Ruggiero RA Jr, Reilly TM, Hall PV: Early reconstruction failures after multilevel cervical corpectomy. Spine 2003, 28:140–142.DOI: 10.1097/00007632-200301150-00009
25. Wang JC, Hart RA, Emery SE, Bohlman HH: Graft migration or displacement after multilevel cervical corpectomy and strut grafting. Spine 2003, 28:1016–1021.DOI: 10.1097/01.BRS.0000061998. 62204.D7
26. Vaccaro AR, Falatyn SP, Scuderi GJ, Eismont FJ, McGuire RA, Singh K, Garfin SR: Early failure of long segment anterior cervical plate fixation. J Spinal Disord1998, 11:410–415.PMID: 9811102
27. Isomi T, Panjabi MM, Wang JL, Vaccaro AR, Garfin SR, Patel T: Stabilizing potential of anterior cervical plates in multilevel corpectomies. Spine 1999, 24: 2219.DOI: 10.1097/00007632-199911010-00008
28. Diangelo DJ, Foley KT, Vossel KA, Rampersaud YR, Jansen TH: Anterior cervical plating reverses load transfer through multilevel strut-grafts. Spine 2000, 25:783–795.DOI: 10.1097/00007632-200004010-00005
29. Breig A. The therapeutic possibilities of surgical bioengineering in incomplete spinal cord lesions. Paraplegia 1972; 9:173–82.DOI: 10.1038/sc.1971.29
30. Delamarter RB, Sherman J, Carr JB. Spinal Cord Injury: The Pathophysiology of Spinal Cord Damage and Subsequent Recovery following Immediate or Delayed Decompression. Twenty-first Annual Meeting, Cervical Spine Research Society, New York, NY, December1, 1993.DOI: 10.2106/00004623-199507000-00010
31. Ducker TB, Saleman M, Daniell BB. Experimental spinal cord trauma: III. Therapeutic effects of immobilization and pharmacologic agents. Surg Neurol 1978; 10:71–6. PMID: 98857
32. Marcel F. Dvorak, Charles G. Fisher, Michael G. Fehlings, Y. Raja Rampersaud, Bizhan Aarabi, Alexander R. Vaccaro. The Surgical Approach to Subaxial Cervical Spine Injuries. An Evidence-Based Algorithm Based on the SLIC Classification System. Spine 2007; doi: 10.1097/BRS.0b013e318158ce16
33. Cao P, Liang Y, Gong YC, Zheng T, Zhang XK, Wu WJ. Therapeutic Strategy for traumatic instability of subaxial cervical spine. Chin Med J (Engl). 2008 Aug 5; PMID: 18959110
34. Li Y, Wang H, Wang Y, Liu H. EFFECT OF ANTERIOR CERVICAL SPINAL CORD COMPRESSION FACTOR IN TREATMENT OF CERVICAL SPONDYLOTIC MYELOPATHY.Zhongguo Xiu Fu Chong Jian Wai Ke Za Zhi. 2015 Sep; PMID: 26750007
35. Theodotou CB, Ghobrial GM, Middleton AL, Wang MY, Levi AD. Anterior Reduction and Fusion of Cervical Facet Dislocations. Neurosurgery. 2019 Feb 1; doi: 10.1093/neuros/nyy032
36. Mu X, Li Z, Ou Y, Wei J. Early and short-segment anterior spinal fusion for cervical spinal cord injury without fracture and dislocation can achieve more significant neurological recovery: a retrospective study based on the current medical system in southern China.J Orthop Surg Res. 2019 Dec 5;doi: 10.1186/s13018-019-1487-0
37. Sethy SS, Ahuja K, Ifthekar S, Sarkar B, Kandwal P. Is Anterior-Only Fixation Adequate for Three-Column Injuries of the Cervical Spine? Asian Spine J. 2020 Apr 24.doi: 10.31616/asj.2019.0225
38. Guo W, Lin Y, Huang J, Hu F, Ding Z, Xiao Z. Treatment strategy of unstable atlas fracture: A retrospective study of 21 patients. Medicine (Baltimore). 2020 May; doi: 10.1097/MD.0000000000020153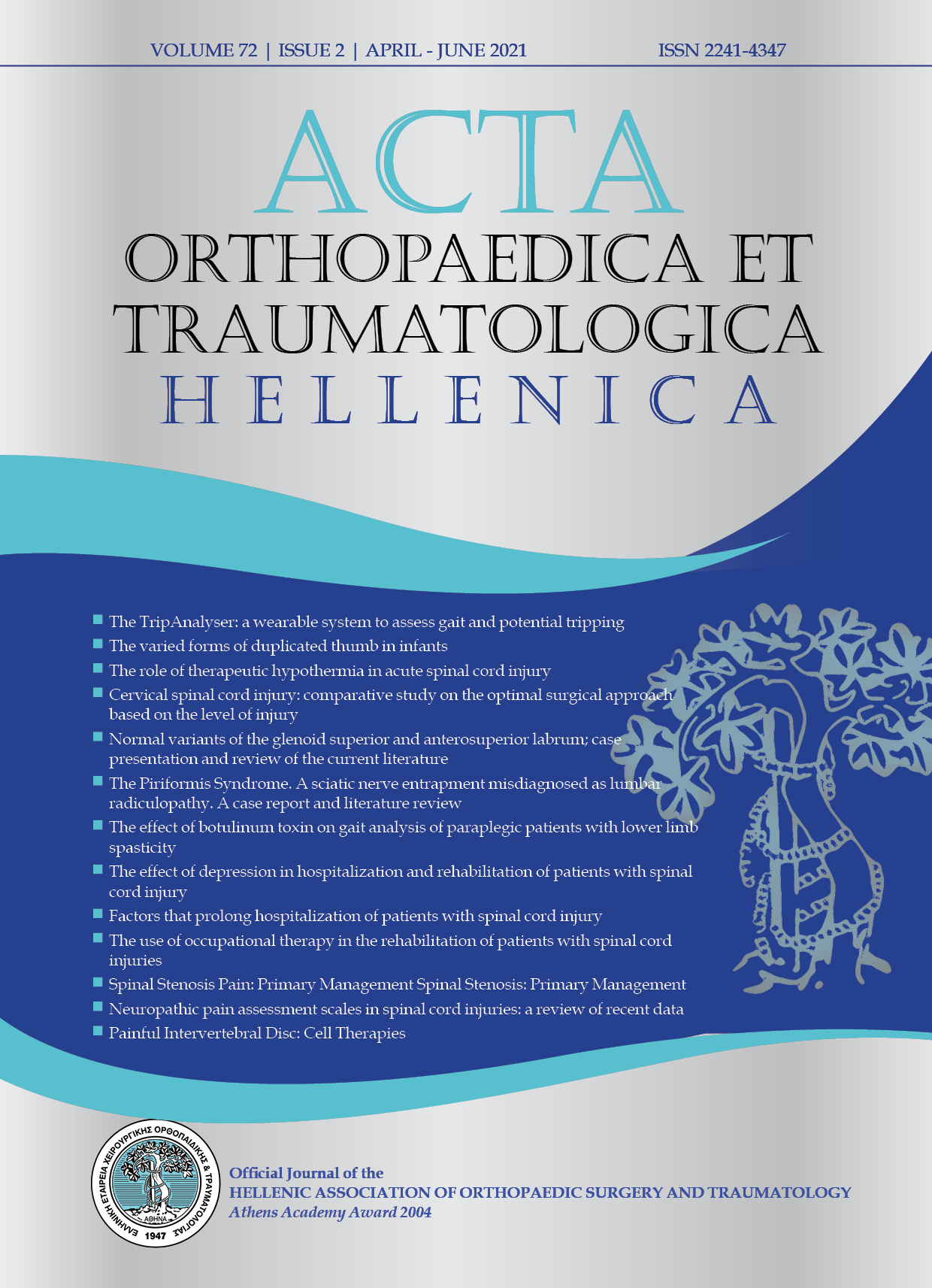 Copyright (c) 2021 Acta Orthopaedica Et Traumatologica Hellenica
This work is licensed under a Creative Commons Attribution-NonCommercial 4.0 International License.