Carpal Tunnel Syndrome: Complications and Legal Implications
Dionysia Vasdeki

Charalambos Chryssanthakis

Sokratis Varitimidis

Zoe H Dailiana
Keywords:
Carpal tunnel syndrome; complications; negligence; iatrogenic; litigation; claim.
Abstract
Purpose. Carpal tunnel surgery, although very frequent, may be complicated by median nerve injury, representing a significant source of litigation in hand surgery. There is no available data regarding negligence claims in carpal tunnel surgery in Greece. The aim of this study was to identify the number of claims related to carpal tunnel surgery in Greece and to estimate the corresponding financial burden to the National Health System.
Material and Methods. All legal claims of negligence for hand and upper extremity surgery that went to a trial, attributed to all surgical specialties, in Greece for a 20-year period were reviewed. Data was further analysed to identify claims related to carpal tunnel release.
Results. One successful claim related to carpal tunnel surgery was identified. The case involved a 36-year-old patient who underwent open carpal tunnel release and suffered from intraoperative injury of the median nerve. After further procedures, the patient was disclosed incapable to work. Subsequently a claim was set, which reached to a trial. An indemnity payment of €20.000 was set.
Conclusion. This is the first report of negligence claim about carpal tunnel surgery that went to trial in Greece. Carpal tunnel release is a common procedure, seldomly accompanied with devastating complications, representing a frequent cause for litigation in hand surgery. Legal claims related to carpal tunnel surgery can be a considerable financial burden for surgeons and health systems. Understanding the factors that lead to successful legal proceedings will help surgeons improve their practice to prevent injury and subsequent litigations.
Downloads
Download data is not yet available.
References
1. Ajwani SH, Hinduja K. Litigation and Malpractice in Carpal Tunnel Surgery: An Analysis of 60 Successful Claims Over a 10-Year Period (2002-2012). J Hand Microsurg 2016 Aug; 8(2): 96-99.
2. Ganesh KN, Hricz N, Drolet BC. Litigation Following Carpal Tunnel Release. Hand (N Y) 2019 Jul; 14(4): 466-470.
3. Khan IH, Giddins G. Analysis of NHSLA claims in hand and wrist surgery. J Hand Surg Eur Vol 2010 Jan; 35(1): 61-4.
4. Benson LS, Bare AA, Nagle DJ, et al. Complications of endoscopic and open carpal tunnel release. Arthroscopy 2006 Sep; 22(9): 919-24.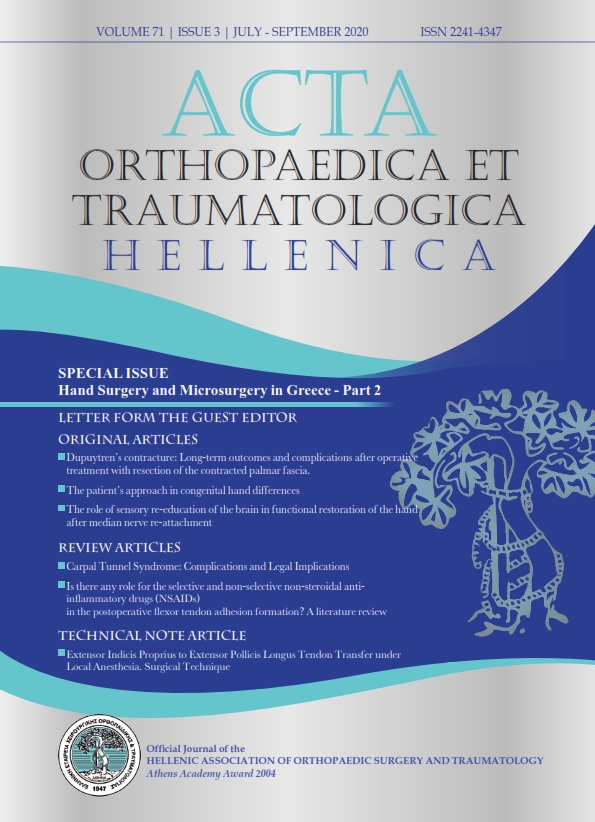 Copyright (c) 2020 Acta Orthopaedica Et Traumatologica Hellenica
This work is licensed under a Creative Commons Attribution-NonCommercial 4.0 International License.