Ligament reconstruction and tendon interposition arthroplasty for the treatment of 1st Carpo-Meta-Carpal joint arthritis
Panagiotis N. Giannakopoulos

Konstantinos Kourkoutas

George Kasimatis

Nikolaos Vlachos Zounelis
Keywords:
Thumb, Arthritis, Ligament, Tendon, Reconstruction
Abstract
Arthritis of the basal joint of the thumb is the most common form of hand arthritis. Various operations have been described for surgical treatment of this type of arthritis, such as simple excision, excision with ligament reconstruction, use of autogenous or synthetic grafts and total joint arthroplasty. Although many authors believe that simple excision with or without interposition of tendon or synthetic graft is adequate, the technique of ligament reconstruction with tendon interposition (LRTI) offers an additional and important factor to avoid the subsidence of the 1st metacarpal.
Materials and Methods. Between 1995 and 2018, 115 patients with basal joint arthritis of the thumb underwent surgical treatment in our institution. Sixty-five of them underwent operation with a modified technique of Barton and Pellegrini, using a suture anchor for the attachment of half of the flexor carpi radialis tendon. This technique simplifies the operation, making it feasible for a wider range of hand surgeons. Additionally, the patients underwent tenotomy of accessory bands of abductor pollicis longus when present.
Results. Assessment of the results was based on pain reduction, grip and pinch strength, as well as on the improvement of thumb motion. Reduction of 1st metacarpal height and the deformity of the thumb were also evaluated. Complications were minor following this procedure.
Conclusions. Excision arthroplasty and ligament reconstruction with tendon interposition (LRTI) remains a gold standard for treatment of basal joint arthritis of the thumb. The modification of the technique with the use of a suture anchor instead of an intraosseous tendon graft, offers a significant simplification and should be considered as an attractive alternative. Tenotomy of the accessory bands of abductor pollicis longus may further improve the final clinical outcome.
Downloads
Download data is not yet available.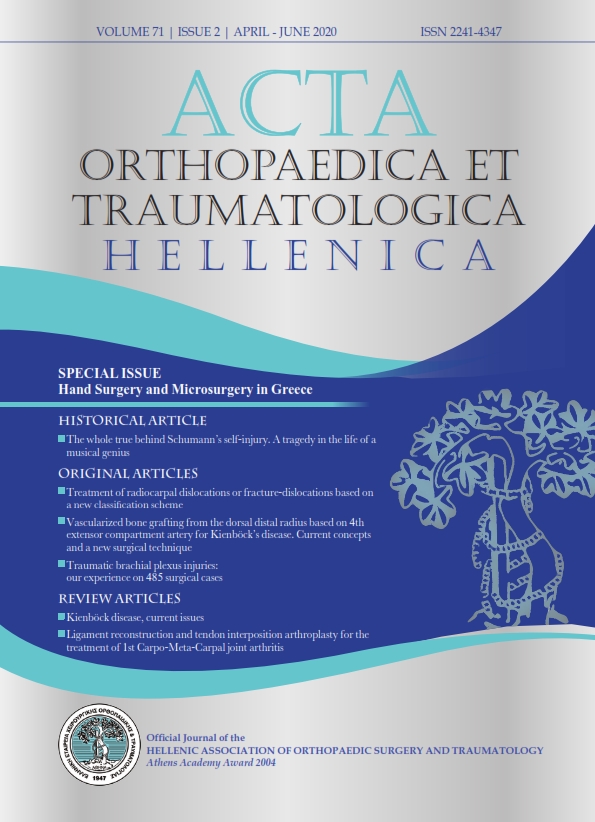 Copyright (c) 2020 Acta Orthopaedica Et Traumatologica Hellenica
This work is licensed under a Creative Commons Attribution-NonCommercial 4.0 International License.